A Little Smoker – The Only Complete Cocktail Smoker Kit to Elevate Your Drinking Experience
RM239.00
Rated 5.00 out of 5
Buy this product to earn
11
Points.
It's time to elevate your drink to the next level with this Little Smoker. Believe it or not, now you can prepare your very own smokey whiskey, bourbon, cocktail etc., right at your home?! This kind cocktail is usually served at a high-end luxury bar which might even have a dress code for guests to go into. Don't be surprised if they charge quite a fee for one smokey cocktail – perhaps as handsome as the bartender who prepared it.
The smoker cocktail experience is great as it not only satisfies people visually with the mesmerising thick smoke – it also ignites our tastebud sensations. Now you can have it right at your home. I can assure that it's easy to have this 5-star experience and you can easily wow your friends with this. Once you try it, you know your drink will never be the same again. This kit is also a perfect gift for someone who loves drinking. It is especially designed to jumpstart your smoked cocktails with style.
How does it work?
1. Just pop the cocktail smoker on your favourite drink.
2. Add your favourite woodchips inside the smoker.
3. Torch up the woodchips.
4. Wait for 30 seconds, then voila, you got your smokey cocktail.
What's inside?
Cocktail Smoker x 1 – This one-of-a-kind smoker top is going to take your drink to the next level. Handcrafted with all-natural wood into perfection, so you get to prepare your first rich smokey drink right at your home easily. You can also smoke cheese, cocktail sausages, and nuts with this too!
Culinary Butane Torch x 1 – It's portable and easy to use with your cocktail smoker. Adjustable flame size to concentrate as much or as little as you need. (Note: No butane included for safety purposes.)
All-natural Wood Chips x 5 – No fillers, no preservative, no artificial flavouring and 100% natural. Add an authentic, rich, smokey taste to your cocktail, or whiskey. Now, you can test all 5 different woodchips with this kit: pecan, oak, apple, peach, and cherry.
Keepsake Box & Handwritten Card x 1 – All of the gift items are painstakingly arranged in our premium gift box. A complimentary handwritten card will be enclosed with your gift.
Size of box: 18cm x 18cm x 9.5cm
In stock
Additional information
Weight
2 kg
Dimensions
18 × 18 × 9.5 cm
Delivery

1. Please allow 1 to 3 business days to process your order.
2. All the gifts and greeting will be put in the gift box. Each carefully curated and hand-wrapped box ships as a gift, with a handwritten note and no pricing information.
3. The gift box will be put into a carton box to protect the outer of the gift box. If the box is loose in the carton box, packaging accessories such as foam will be included to secure the gift box.
4. Seal the package and attach the airwaybill to dispatch. Please allow 2 to 6 business days on standard shipping In West Malaysia.

Display

Colour: Actual colours may vary due to every computer monitor has a different capability to display colours and that everyone sees these colours differently. Therefore, we cannot guarantee that the colour you see accurately portrays the true colour of the product.

Props: This gift does not include props used for the photoshoot.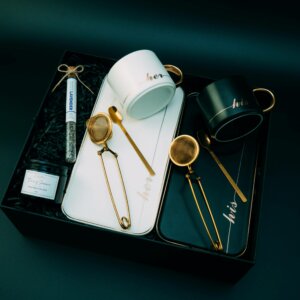 Ready to Ship
This is what newlywed dreams are made of - slow mornings in bed with tea and a candle, and warm evenings spent cooking at home. Wish those lovebirds a happily ever after with everything they will cherish now and forever. What's inside: Trace of Summer | Wood Sage & Sea Salt Soy Wax Candle by Caldo x 1 - The scent of the sea breeze and aromatic wood sage, which brings you closer to the depths of nature, freedom, summer fun and the beach! Caldo offers a hand-poured soy wax scented candle using an environmentally friendly substance, a clean, non-toxic soy candle. Ceramic Couple Mugs Set (Tray Mug Spoon) x 1 - Inspired by British Royal style, this design with exquisite coloured glaze, gleaming gold trim brings elegance and beauty to your home. This classic design will complement traditional and contemporary tastes, which has made it a popular gift. Chill and enjoy an afternoon tea with this ceramic couple mug with your other half. Lavender Flower Tea Tube x 1 - Lavender is one of the most beloved and often-used plants in the world. From aromatherapy to culinary; its name has become synonymous with a light shade of purple. Lavender tea is made from the dried lavender flower buds. Studies suggest it may help with calming the body and mind, help with anxiety, positively influence the mood, help with depression, act as a sedative and reduce pain. Tea Infuser x 2 - Perfect for making a refreshing cup of tea. It could filter residue, coffee particles, ingredient, chafing dish conveniently and prevent scattering suspended substance effectively. Keepsake Box & Handwritten Card x 1 - All of the gift items are painstakingly arranged in our premium gift box. A refined satin ribbon will be daintily added as a finishing touch so your gift is ready to be gifted. A complimentary handwritten card will be enclosed with your gift. Size of box: 33cm x 27cm x 12cm
RM

269.00