聚宝团圆 Treasure-Fu Reunion
Buy this product to earn
44
Points.
Our new Chinese New Year gift is all about our Greatest Bunny Adventure. Fufu, the bunny was an adventurous little fellow. She loved to explore and go on exciting adventures, like any other day in her life! This morning, FUFU is bringing Delight-Fu for her little adventurers. On the journey she got to sing in the Sing-fu theater and watch a greatest show at Golden "Treasure-Fu" Pagoda. Well, this is an interesting turn. Let's see where this road takes her!
Pre Order Now. Delivery starts from 9th January 2023 onwards. Only valid for delivery in Penang. 
Food is always the best reason to get everyone back to their home. Introducing our exclusive Treasure-Fu Reunion Set. A set that brings you a mouthful of indulgence while enjoying the fun chessing moments with your families and friends. 
What's inside:
Natural Dried Seafood Abalone 48g x 1- Abalone is considered one of the four main delicacies of the sea, as well as a symbol of wealth and prosperity, making it a must-have at Chinese New Year. Besides its chewy and meaty texture, it is believed to be effective in relieving dry coughs and fever as well as improving vision and liver function.
Mini Chinese Chess Cookies Set x 1- A chest or a biscuit? Yes, both. Another fun biscuit set inspired by Xiang Qi (Chinese Chess). The upper layer of the biscuit is made of chocolate and comes with wording that is exactly the same as the 'real' Xiang Qi. Now, you can eat the chess of every step you win.
Premium and Natural Dried Seafood Scallops 20g x 1- In addition to the delectable taste of scallops, it is also surprisingly nutrient-dense, serving as a good source of protein, calcium phosphate, potassium, zinc, magnesium, and vitamins A, B, and D.
Premium and Natural Bird Nest 2g x 1- Snow Bird Nest is a plant pith secretion that has been used for more than 1,000 years to help nourish the lungs, detoxify, and regulate gastrointestinal function.
Fen Jiu – 20-Year-Old 475ml x 1- A distilled spirit originating from Shanxi, a province situated in northern China, Fenjiu is a type of light aroma baijiu that boasts a delicate fragrance with a sweet, mellow and refreshing taste. Produced in mountainous regions with cool climates, it uses high-quality sorghum that's brewed with the ancient well water and groundwater of Xinghua Village.
Premium Ceramic Bowl and Spoon Set x 1- This beautiful set includes a ceramic bowl with a lid and a soup spoon, perfect for enjoying your favourite soups, stews, and more. The elegant design features traditional Chinese elements, making it a truly stunning addition to your table. Plus, the ceramic material is safe for carrying hot food, so you can enjoy your meal without worry.
The Greatest Treasure-Fu Golden Theater Packaging x 1- The packaging is not only a packaging. The golden cylindrical packaging with a clear curve surface and a golden base as the chess board. Not to mention, this packaging makes a great decoration in your house, you display any of your flavour pieces inside this tiny theater.
Secret Recipe of 3 Treasure Soup x 1- A secret recipe that includes words and video to transform you into a professional cook.
Handwritten CNY-Themed Greeting Card x 1- A greeting card inspired by the design of a vintage theater entrance ticket. A greeting card is nothing until a warm handwritten message is written on it. 
Out of stock
Additional information
Weight
3 kg
Dimensions
40 × 40 × 40 cm
Delivery

1. Please allow 2 to 6 business days to process your order.
2. All the gifts and greeting card will be put in the rattan gift box. Each carefully curated and hand-wrapped box ships as a gift, with a handwritten note and no pricing information.
3. The gift will be put into a carton box to protect the outer of the gift box. If the basket is loose in the carton box, packaging accessories such as foam will be included to secure the gift.
4. Seal the package and attach the airwaybill to dispatch. Please allow another 2 to 6 business days on standard shipping In West Malaysia.

Display

Colour: Actual colours may vary due to every computer monitor has a different capability to display colours and that everyone sees these colours differently. Therefore, we cannot guarantee that the colour you see accurately portrays the true colour of the product.

Props: This gift does not include props used for the photoshoot.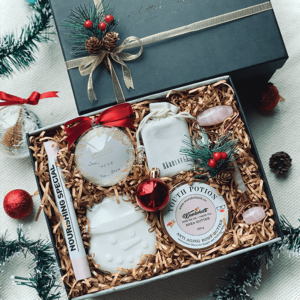 Christmas 2020
It's beginning to feel a lot like Christmas, everywhere I go. But I bet most people just scratch their heads off to think of a perfect gift for this perfect woman. She can be your girlfriend, wife, mom, sister, friends, colleague, etc. How to pamper her in this giving season? Not another ordinary gift that we could get at a mall, a gift that actually tells her 'I care about you'. ***Get a 
LIMITED EDITION CHOCOMALLOW MUG SET* 50 SETS ONLY
worth RM128 for FREE when your purchase over net RM388 with 1 or more Christmas Series or/and other Ready to Ship Gift Boxes. Grab it now!*** What's inside?
Back to Baby Mask Nourishing Treatment by 3CE x 1:Each two-part Back to Baby Mask offers a special, targeted treatment to clear, moisturise, or nourish skin, as needed. Use the clearing mask to refine skin texture with a peeling essence and replenish hydration with a moisture essence. Ultra Moist starts with a scrubbing pad mask that removes build-up and impurities, while step two strengthens skin's natural moisture barrier for lasting hydration. The Nourishing Special is especially good for dry skin with a glow essence and ultra-nourishing and moisturising cream mask.
Rose Quartz Roller x 1
: There is an old story saying that thousands of years ago, the Empress of China used a roller made of rose quartz to maintain her youthful appearance and radiance. The semi-precious stone considered a symbol of beauty, grace and longevity has long been revered in the east for its mystical powers.
Mr. Snowie Bath Bomb by Wunderbath x 1
: Have a Jolly wonderful bath time with Mr. Snowie Bath Bomb. Let this cute frosty head swirls and twirl in your bath releasing colours of green, dark blue, and red. Infused with Lavender Essential Oil to combat holiday stresses and Vanilla Oil to warm your soul. Leaving skin smooth and rejuvenated. This bath bomb bath releasing color is specially made for A Little Thing.
Youth Potion Body Butter by Wunderbath x 1: Formulated with Rose Hip Oil, antioxidants packed botanical to assist with cell regeneration, paired with the anti-inflammatory powerhouse, Green Tea Extract. Combined with a revitalizing blend of Rose Geranium and Neroli essential oils, well known for its regenerating properties. I bet no women can resist this anti-aging potion.
Handlavet Lavender Dream Candle x 1: Made with 100% natural soy wax which is very clean in burning and it burns slower (lasts about 18 hours) and cooler. It has no toxins or pollutants which means less likely to trigger allergies and produce very little soot as well.  It's a perfect companion for relaxation.
Christmas Greeting Ball x 1: A Christmas ornament on your tree as well as a greeting card for your loved one. If they don't have a Christmas tree, no worries. Let's send some love to them by giving them a mini Christmas tree which we include inside the ball. We even help handwrite your message on the card.
Christmas Ornaments Decor & Keepsake Box x 1: All of the gift items and Christmas ornaments are painstakingly arranged in our premium gift box. A refined gold satin ribbon and Christmas ornaments are daintily added as a finishing touch so your gift is ready to be gifted. For this Christmas season special, we help you to engrave your loved one name on the box. I promise he/she will love it!
RM

295.00