Choco-a-lot Jolly
Buy this product to earn
4
Points.
Pre Order Now. Delivery starts from 12th December 2022 onwards.
Jingle bell~ Jingle bell~ Jingle all the way 🎶
Living in the past can be both a bad thing and a good thing. If someone you love adores everything old school and retro, you can make their Christmas better than ever this year by picking them up something from this complete collection of timeless products that they will adore.
Here's our A Choco-a-lot Jolly Season gift set.
Let's see what's inside.
Marshmallow Gourmet by Huey & Wah x 1 – These vanilla marshmallows are made using 100% pure Madagascar vanilla extract. It's ideal for dipping into your favourite hot beverage or simply eating straight from the pack to satisfy you.
Drinking Chocolate Vung Tau by Benns Ethicoa x 1 – Drinking chocolate granules made using ethically sourced cacao beans from the Vung Tau farm estate in Ba Ria, Vietnam. As good as it is simple, this is our take on "Adult Milo" that's actually good for you and is 100% natural, vegan, and gluten-free.
Christmas Special Cork Coaster x 1 – The eco-friendly coaster is not only durable but also environmentally friendly and reusable!
Handwritten Christmas-Themed Greeting Card x 1 – A complimentary handwritten card will be enclosed with your gift.
Retro-Style Santa TV Gift Box x 1 – It can be used as a Christmas decoration or Christmas card. The box template and other graphics are included to create fun. Don't be bored during Christmas. Make an extra effort for your extra-special loved ones.
Out of stock
Additional information
Weight
0.24 kg
Dimensions
30 × 19.5 × 8 cm
Delivery

1. Please allow 2 to 6 business days to process your order.
2. All the gifts and greeting will be put in the gift box. Each carefully curated and hand-wrapped box ships as a gift, with a handwritten note and no pricing information.
3. The gift box will be put into a carton box to protect the outer of the gift box. If the box is loose in the carton box, packaging accessories such as foam will be included to secure the gift box.
4. Seal the package and attach the airwaybill to dispatch. Please allow 2 to 6 business days on standard shipping In West Malaysia.

Display

Colour: Actual colours may vary due to every computer monitor has a different capability to display colours and that everyone sees these colours differently. Therefore, we cannot guarantee that the colour you see accurately portrays the true colour of the product.

Props: This gift does not include props used for the photoshoot.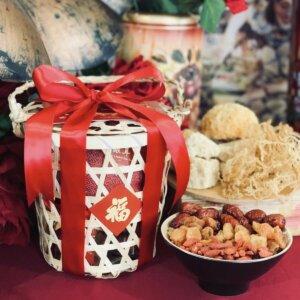 Chinese New Year 2022
Pre Order Basis. Start Delivery from 4th January 2022. Natural nourishment from the sea Nourish yourself, your friends or your family in this festive season with this curated and adorable gift set that we specially designed for 2022 CNY. Each gift set contains premium and natural ingredients which are hand-picked and packed with full of love.  A secret recipe is enclosed that'd guide you to become the master of Tong Sui. This high collagen sea bird nest dessert is highly nutritious and the best to enjoy after the reunion dinner which could serve up to 6-10 people. Nothing better than having a sweet dessert while everyone just relax and spending time chit-chatting. Whether you have sweet tooth or just looking for a dessert to enjoy with your family, sea bird nest is one the premium and presentable gift that you may give. What's inside? Natural Sea Bird Nest天然野生海燕窝x 1: Sea bird nest is known as Eucheuma Cottonii, is 100% organic coral grass that grows naturally at the sea. It is rich in enzymes, fiber, vitamins and minerals that good for healing.  Do you know sea bird nest is 10 times more collagen than normal bird nest? It also helps on anti aging, anti inflammation, improve brain, digestion, hair quality and skin conditions. Sea bird nest is valuable gift and superfood from sea. Natural Snow Fungus 天然银耳 x 1: Snow Fungus is an edible mushroom that belongs to the Tremellaceae family. It helps to lower cholesterol, develop healthy skin and heart, boost immune system, manage diabetes, reduce inflammation and so much more. Premium Red Dates and Goji Berry特级红枣与枸杞x 1: Red dates are known to have an anti-inflammatory effect, good for overall skin complexion, improve digestion, improve relaxation, and help to ease ailment such as sore throat. The goji berry, also called the wolfberry, is a bright orange-red berry that comes from a shrub that's native to China. In Asia, goji berries have been eaten for generations for longevity. Brewing these 2 ingredients can make a delicately sweet delicious nourishing drinks. Natural Honeycomb Sugar天然石蜂糖x 1: This natural sugar is known that it can relieve cough and reduce phlegm, It also help on detoxification, etc. It's perfect as the substitute for processed white sugar. Premium Dried Longan特级龙眼x 1: Longan has anti-inflammatory, antioxidant, antiviral and antibacterial properties that contribute to many of the health benefits of longan fruit. Do you know longan also known as 'dragon eye' as it looks like dragon eye after the skin being peeled. Sea Bird Nest Dessert Secret Recipe银燕甜蜜齐团圆糖水特制秘方 x 1: What these ingredients for? Here comes the secret recipe that guide you to make a nourishing and healthy dessert for your friends and family. We promise it is easy as ABC. Handmade Rattan Basket 新年装饰与精心编制篮子 x 1: All of the gift items and Chinese New Year ornaments are painstakingly arranged in our handmade rattan basket so your gift is ready to be gifted. Chinese New Year Greeting Card 农历新年祝贺卡x 1: Your message on card can send some love to someone even if they are far away from you. A complimentary handwritten card will be enclosed with your gift. Early Bird Promo: 1 Unit: RM98 per Unit (Normal Price) 3 - 10 Unit: RM93.10 per Unit (RM98 -5%) 11 - 20 Unit: RM88.20 per Unit (RM98 -10%) First come first serve basis. While stocks last.
RM

138.00