Workaholic Dad
Buy this product to earn
14
Points.
Despite of being busy at home because you got a lot of work to be done and its your responsible to take care of the kids at the same time. This gift set has everything you need as a workaholic dad. It helps you of become more organized.
Let's see what's inside:
Wooden Double Edge Safety Razor by Seedy x 1 -Razor which made from beech wood and stainless steel material, that are environmentally friendly and sustainable. Lightweight and easy to carry. Detachable blades design helps to reduce the water residue and prevent bacterial growth.
Wooden Door Hanger x 1 -Wood door hanger is essential for any front door, especially when you are busy and do not want to be disturb by anyone. Why have a boring door hanger when you can have one personalized like ours.
Mini Leather Cable Organizer Pouch x 1 -Always losing cables, chargers and data cables? Why worries, when you have this Mini Leather Cable Organizer pouch with you. Made of durable and high quality leather. With the help of this organizer, you can organize all the cables after use it.
Crackle Case Phenomen Solid Cologne x 1 -Capturing the scent of the deep woods- intoxicating, warm and a bit spicy, phenomen features sandalwood & English oak with red berries. All cased in our premium crackle case that is tougher and sleeker. Even the design makes it look masculine, not to mention its smell.
Travel Sized Hair Pomade by Mentega x 1 -The Mentega Jr is an oil and wax-based pomade, has a firm hold with medium shine. It's small, light, and easy to carry, easier for you to style your hair anytime and anywhere.
Keepsake Box & Handwritten Card x 1 – All of the gift items are painstakingly arranged in our premium gift box. A refined satin ribbon will be daintily added as a finishing touch so your gift is ready to be gifted. A complimentary handwritten card will be enclosed with your gift.
Size of box: 33cm x 27cm x 12cm
Additional information
Weight
5 kg
Dimensions
33 × 27 × 12 cm
Delivery

1. Please allow 1 to 3 business days to process your order.
2. All the gifts and greeting will be put in the gift box. Each carefully curated and hand-wrapped box ships as a gift, with a handwritten note and no pricing information.
3. The gift box will be put into a carton box to protect the outer of the gift box. If the box is loose in the carton box, packaging accessories such as foam will be included to secure the gift box.
4. Seal the package and attach the airwaybill to dispatch. Please allow 2 to 6 business days on standard shipping In West Malaysia.

Display

Colour: Actual colours may vary due to every computer monitor has a different capability to display colours and that everyone sees these colours differently. Therefore, we cannot guarantee that the colour you see accurately portrays the true colour of the product.

Props: This gift does not include props used for the photoshoot.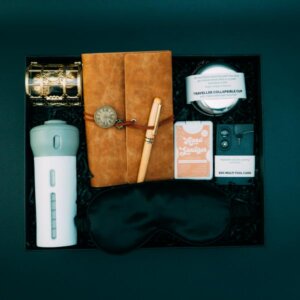 Ready to Ship, Relax & Recharge
Know somebody who's a travel junkie? From a collapsible stainless steel mug to tactical wallet cum multi-tool card like a Swiss Army tool but in a much thinner and better way - this makes a traveler's life so much more convenient and get them excited for their next trip. What's inside: 4 in 1 Portable Soap Dispenser x 1 - Each bottle contains removable internal containers that form a user-friendly travel dispenser. Lightweight and compact. The four internal containers do not need to be taken out separately, only need to be switched by rotation to close the outlet. Easy peasy! Elegant Eco Friendly Bamboo Pen x 1 - Made from bamboo - one of the most durable and renewable resources on the planet. Enjoy the smooth writing ballpoint pen with twist action mechanism. Leather Journal x 1 - This Vintage Clock Leather Loose leaf journal book with wood bamboo ball pen marks the new concept of design – rustic with a touch of antique and rugged edge finish. Perfect for journaling and a special keepsake for your thoughts and ideas! Premium Alcohol Free Hand Sanitizer x 1 - This hand sanitizer is using newest, 100% all-natural (safe for kids), specialty low-salt formulation with a boost of powerful electrolyzed HOCl. This non-drying hand spray can be used frequently throughout the day and is ideal for use after hand washing to soothe your skin's natural defenses and promote soft skin! Retractable Mug x 1 - Foldable design, save space and convenient for taking trips; creative and practical. Stainless steel material, safe and healthy. Store hot or cold water, from juice to soft drinks. Comes with a loop to carry easily. A great accompaniment to travel. When the cup is open, adjust them well to turn it into a waterproof, flexible steel cup. Perfect for hiking, tailgating and shopping. Light Tactical Wallet & EDC Multi Tool Card x 1 - The EDC Multi-Tool Card is a Swiss Army tool but in a much thinner form. It has index points that lock safely into the chassis. This allows the wallet and multi-tool to offer several functions. 100% Silk Eye Mask x 1 - Get a quality sleep no matter where you are! – Even when you are travelling and missing out your favourite pillow or luxurious sleep oasis back home, you can still get your full night's rest and pressure-free comfort with this Silk Eye Mask. Made with soft, stretchy and breathable materials to help block the light, minimize photophobia (light sensitivity) distractions, dry eyes, and can even help prevent wrinkles as well! Golden Treasure Chest with Chocolate x 1 - IRRESISTIBLE TASTE EXPERIENCE. Who can deny Ferrero Rocher chocolate? The beauty of gold, care and infinite attention for quality ingredients. Packed in golden treasure chest to symbolize a golden wanderlust moment. Each chocolate is wrapped in gold foil, placed in a fluted paper cup and topped off with a label. Keepsake Box & Handwritten Card x 1 - All of the gift items are painstakingly arranged in our premium gift box. A refined satin ribbon will be daintily added as a finishing touch so your gift is ready to be gifted. A complimentary handwritten card will be enclosed with your gift. Size of box: 33cm x 27cm x 12cm
RM

299.00