Outdoor Guy
Buy this product to earn
11
Points.
Doing some outdoor activity like camping or hiking is a must on the weekend. From a portable outdoor camping stove, traveler collapsible cup and hip flask, this get certain outdoorsy out there excited for their next trip.
Let's see what's inside:
Stainless steel Portable Outdoor Camping Stove x 1 -This Stainless steel Portable Outdoor Camping Stove, comes with lid which also work as a mini pan and bowl marks the new concept of design. Made of extremely durable stainless steel that are convenient for camping, hiking or backpacking activity. Foldable handles, for easy storage and transport.
Traveler Collapsible Cup x 1 – Made of stainless steel material, safe and healthy. Store hot or cold water, juice from soft drinks. Come with a loop to carry easily. Foldable design, save space and convenient for taking trips, creative and practical. When the cup is open, adjust them well to make this cup waterproof flexible steel cup. Perfect for hiking, camping, tailgating and shopping.
Traveler Hip Flask x 1 -Sleek design, save space and convenient for taking trips. Stainless steel material, safe and healthy. High quality flask suitable to store hot or cold water, juice from soft drinks. A great accompaniment for outdoor activities. Perfect for you to crazy with.
Keepsake Box & Handwritten Card x 1 – All of the gift items are painstakingly arranged in our premium gift box. A refined satin ribbon will be daintily added as a finishing touch so your gift is ready to be gifted. A complimentary handwritten card will be enclosed with your gift.
Size of box: 33cm x 27cm x 12cm
Additional information
Weight
5 kg
Dimensions
33 × 27 × 12 cm
Delivery

1. Please allow 1 to 3 business days to process your order.
2. All the gifts and greeting will be put in the gift box. Each carefully curated and hand-wrapped box ships as a gift, with a handwritten note and no pricing information.
3. The gift box will be put into a carton box to protect the outer of the gift box. If the box is loose in the carton box, packaging accessories such as foam will be included to secure the gift box.
4. Seal the package and attach the airwaybill to dispatch. Please allow 2 to 6 business days on standard shipping In West Malaysia.

Display

Colour: Actual colours may vary due to every computer monitor has a different capability to display colours and that everyone sees these colours differently. Therefore, we cannot guarantee that the colour you see accurately portrays the true colour of the product.

Props: This gift does not include props used for the photoshoot.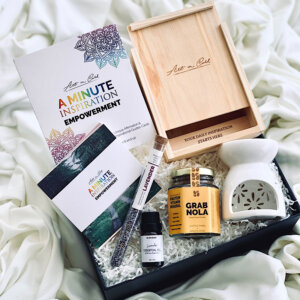 Ready to Ship, Relax & Recharge
We all want to feel moved, and then use it to create happiness, passion and purpose. Inspire someone by sending a box that has 30 days of inspirational quote cards and granola that keep them pumped up physically and emotionally. Besides, Frankincense essential oil is excellent for relaxation, which is crucial and often neglected in our busy lives. What's inside: A Minute Inspiration - Empowerment by Art In Card x 1 - Contains 30 Affirmations quote cards. Comes with a beautiful wooden box to display the cards. Perfect as daily inspiration and positive affirmation to lift your spirits throughout the day. Frankincense Essential Oil (Boswellia Serrata) by Soap Cart x 1 - Extracted from the gum of Frankincense or Olibanum trees, Frankincense Essential Oil has a woody and slightly fruity aroma which calms and relaxes the sense. It is also used to treat health problems such as Arthritis and Rheumatoid Arthritis, Cold, Digestive disorders and Uterine health problems. 100% Pure and Natural Salted Gula Melaka Granola by Amazin'Graze x 1 - A burst of Asian delight. Inspired by ingredients in grandma's larder, recipe of traditional rolled oats, almonds, creamy cashews, golden flax seeds and sweet coconut baked to perfection with homemade Gula Melaka sauce. Ceramic Essential Oil Burner x 1 - This stylish, beautiful, and elegant porcelain fragrance oil burner is a perfect home decor. With just a few drops of essential oil - it helps in relaxation and brings a romantic atmosphere into your room. Lavender Flower Tea Tube x 1 - Lavender is one of the most beloved and often-used plants in the world. It's known for its calming effects, making it the perfect bedtime tea. Keepsake Box & Handwritten Card x 1 - All of the gift items are painstakingly arranged in our premium gift box. A refined satin ribbon will be daintily added as a finishing touch so your gift is ready to be gifted. A complimentary handwritten card will be enclosed with your gift. Size of box: 25cm x 20cm x 12.5cm
RM

229.00