Pre-Order: Ships in 14 days | Marshall Emberton Bluetooth Portable Speaker Black & Brass
Pre-Order: Ships in 14 days | Marshall Emberton Bluetooth Portable Speaker Black & Brass
Buy this product to earn
49
Points.
Willen is the perfect portable speaker for any music lover. This Bluetooth speaker delivers the iconic Marshall sound, with one 2'' full range driver and two passive radiators. It also features top-of-class IPX7 water-resistance, meaning it can withstand any adventure. Plus, its 20+ hour battery life make it the perfect companion for any journey. So, whether you're hiking, driving, or just enjoying a sunny day in the park, Willen is ready to rock.
In stock
Additional information
Weight
0.7 kg
Dimensions
6.8 × 16 × 7.6 cm
Delivery

1. Please allow 1 to 3 business days to process your order.
2. The gift will be put into a carton box to protect the outer of the gift box. If the box is loose in the carton box, packaging accessories such as foam will be included to secure the gift box. No pricing information will be included.
4. Seal the package and attach the airwaybill to dispatch. Please allow 2 to 6 business days on standard shipping In West Malaysia.

Display

Colour: Actual colours may vary due to every computer monitor has a different capability to display colours and that everyone sees these colours differently. Therefore, we cannot guarantee that the colour you see accurately portrays the true colour of the product.

Props: This gift does not include props used for the photoshoot.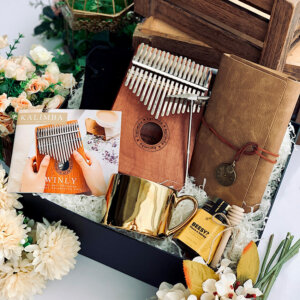 Quickview
Ready to Ship
So you have a music-loving friend? Kalimba is originated from Africa and also known as a thumb piano. Let them enjoy playing this new instrument while enjoying some honey in their elegant gold cup. Now's the time to write down some inspiration or music. What's inside: Mahogany Kalimba with Stand by Winly x 1 - Kalimba, also known as the thumb piano, is like a magic music box that can produce amazing sound. It is a new type of instrument originated in Africa and super great for children to cultivate musical talent and for adults who simply love music. 100% Pure & Organic Melaleuca Honey by Giant B x 1 - Melaleuca Honey is 100% natural honey that collected by bees from the nectar of the Melaleuca flowers. Leather Journal x 1 - This journal marks the new concept of design - rustic with a touch of antique and rugged edge finish. The leather is ultra soft to touch! Perfect for journaling and jog down your inspiration every day. Gold Mug x 1 - This showpiece of unique craftsmanship of this gold coated porcelein mug will add style class and serve as a decoration on your table. Keepsake Box & Handwritten Card x 1 - All of the gift items are painstakingly arranged in our premium gift box. A refined satin ribbon will be daintily added as a finishing touch so your gift is ready to be gifted. A complimentary handwritten card will be enclosed with your gift. Size of box: 33cm x 27cm x 12cm
RM

289.00