Lavender Pure Essential Oil by Mousse Handmade
Lavender is perhaps the most well-known of the essential oils and for good reason. Lavender essential oil is renowned for its many beneficial properties, including promoting calm, relaxation, and being a nervous tension reliever. It can also be added to a carrier oil to help reduce the appearance of scars and wrinkles and help soothe alterations in skin integrity, such as during sun exposure or a minor cooking burn. Due to Lavender?s versatile properties, it is considered the must-have oil to have on hand at all times.
Out of stock
Additional information
| | |
| --- | --- |
| Weight | 0.038 kg |
| Dimensions | 6.8 × 2.3 × 2.3 cm |
| Delivery | 1. Please allow 1 to 3 business days to process your order. For pre-order items, it might take up to 14 business days to order. 2. No pricing information will be included in your package. 3. Seal the package and attach the airwaybill to dispatch. Please allow 2 to 6 business days on standard shipping In West Malaysia. |
| Display | Colour: Actual colours may vary due to every computer monitor has a different capability to display colours and that everyone sees these colours differently. Therefore, we cannot guarantee that the colour you see accurately portrays the true colour of the product. Props: This gift does not include props used for the photoshoot. |
| Department | Hobbies and Interests |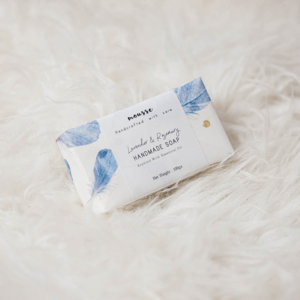 Marketplace
A natural shampoo bar formulated with aloe vera and stimulating essential oils that nourish the hair shaft, removes impurities without stripping hair of natural sebum. Promotes strong, healthy hair and increase manageability and shine. Aloe vera nourishes the hair shaft and scalp and promotes shiny, healthy hair. Lavender has a strong calming effect, and it is a balancing herb, will balance oily or dry hair and scalp. Rosemary stimulates cell growth in the scalp and promotes hair growth. It has a high content of castor oil which is proven to condition hair and scalp as well as increase hair growth. It will also thicken your hair and eliminate damage. Ingredients: Distilled water & aloe vera. Saponified oils of rosemary & lavender-infused olive, palm, castor, coconut & camellia. Essential oil blend. Suitable: Dry to normal hair scalp. Weight of each bar is 100g - Scented with essential oil. How to use: Just wet your hair, rub the bar over hair and scalp, lather, rinse and repeat. This shampoo has no harsh chemicals or sulfates to strip your hair of its natural oils, it just gently removes the gunk. Please note: If you have never used a shampoo bar before, please give your hair time to adjust, as the shampoo bar washes away the buildup from your old shampoo. There is usually an adjustment period of about 1 month on chemically treated hair when using natural products.
RM

29.80