Gromwell Root Body Butter by Mousse Handmade
Buy this product to earn
1
Points.
Gromwell Root Body Butter is a herbal whip made from purple gromwell root infused with extra virgin olive oil, Calendula infused with sweet almond oil, nourishing Shea Butter and Cocoa butter. It has the ability to heal wounds, soothe rashes and burns, and to rejuvenate and repair skin cells.
This product is a great natural alternative to prescriptions/steroid creams for sensitive skin, eczema prone skin, psoriasis and dry flaky skin. Our butter of creamy consistency is easily absorbed by the skin. The richness and high concentration of plant butters and oils will moisturize even very dry skin and make it more elastic.
The nourishing benefits of Gromwell Root Body Butter really are bountiful. It?s conveniently easy to spread making it ideal for a variety of purposes including an all over body butter, diaper rash, hand and foot cream, with stretch marks and dry, scaly or irritated skin.
Ingredients Highlights:
Purple Gromwell Root has been traditionally used for treating skin conditions due to their extraordinary healing and anti-inflammatory, antiseptic properties, which helps to reduce eczema and detoxify when used externally especially for people with acnes, prickly heat, eczema and itchiness due to unknown causes. Great for soothing burns, insect bites, inflammation and allergic skin.
Shea butter is high in vitamins A, E and F which help many skin conditions including eczema, psoriasis, cracked skin, inflamed skin and autoimmune conditions. It has a very soothing effect, especially for dry skin. It is also known for its positive contribution to the elasticity of the skin.
Calendula, a bright and beautiful flower, rich in beta carotene, vitamins and minerals. It has amazing skin healing properties, while also reducing pain and inflammation associated with skin and autoimmune disorders. It's benefits to the skin are numerous, and is used to soothe burns, dry skin, and other conditions of the skin.
Vitamin E is a powerful healing essential to repairing the skin and is used to heal scars, dry skin, and many other skin conditions. It is also an antioxidant.
Gentle and suitable for adults and children with dry, sensitive, irritated skin prone to redness, eczema, dermatitis and problematic skin.
Apply as often as needed to the affected area to calm inflammation, soothe and repair the skin. It begins to clear active skin disruptions within 1 week of daily use.
Out of stock
Additional information
| | |
| --- | --- |
| Weight | 0.114 kg |
| Dimensions | 7 × 4.5 × 7 cm |
| Delivery | 1. Please allow 1 to 3 business days to process your order. For pre-order items, it might take up to 14 business days to order. 2. No pricing information will be included in your package. 3. Seal the package and attach the airwaybill to dispatch. Please allow 2 to 6 business days on standard shipping In West Malaysia. |
| Display | Colour: Actual colours may vary due to every computer monitor has a different capability to display colours and that everyone sees these colours differently. Therefore, we cannot guarantee that the colour you see accurately portrays the true colour of the product. Props: This gift does not include props used for the photoshoot. |
| Type | Beauty, For Her, Self Care |
| Department | Hobbies and Interests |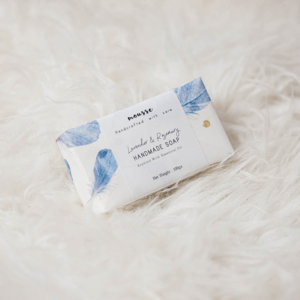 Marketplace
A natural shampoo bar formulated with aloe vera and stimulating essential oils that nourish the hair shaft, removes impurities without stripping hair of natural sebum. Promotes strong, healthy hair and increase manageability and shine. Aloe vera nourishes the hair shaft and scalp and promotes shiny, healthy hair. Lavender has a strong calming effect, and it is a balancing herb, will balance oily or dry hair and scalp. Rosemary stimulates cell growth in the scalp and promotes hair growth. It has a high content of castor oil which is proven to condition hair and scalp as well as increase hair growth. It will also thicken your hair and eliminate damage. Ingredients: Distilled water & aloe vera. Saponified oils of rosemary & lavender-infused olive, palm, castor, coconut & camellia. Essential oil blend. Suitable: Dry to normal hair scalp. Weight of each bar is 100g - Scented with essential oil. How to use: Just wet your hair, rub the bar over hair and scalp, lather, rinse and repeat. This shampoo has no harsh chemicals or sulfates to strip your hair of its natural oils, it just gently removes the gunk. Please note: If you have never used a shampoo bar before, please give your hair time to adjust, as the shampoo bar washes away the buildup from your old shampoo. There is usually an adjustment period of about 1 month on chemically treated hair when using natural products.
RM

29.80