Fresh Succulent Plant
The famous Roman philosopher Marcus Tullius Cicero once said, "If you have a garden and a library, you have everything you need." That's because while a library can feed your mind, nature can feed your soul. You can bring a part of nature into your home by introducing easy-to-raise succulent houseplants.
Succulent plants add special and beautiful touches to your home décor, but they are more than a pretty ornament. They improve air quality, has medicinal properties, improves your concentration, and much more.
***A minimum order of 20 units and above
In stock
Additional information
| | |
| --- | --- |
| Weight | 0.028 kg |
| Dimensions | 5 × 5 × 10 cm |
| Delivery | 1. Please allow 1 to 3 business days to process your order. For pre-order items, it might take up to 14 business days to order. 2. No pricing information will be included in your package. 3. Seal the package and attach the airwaybill to dispatch. Please allow 2 to 6 business days on standard shipping In West Malaysia. |
| Display | Colour: Actual colours may vary due to every computer monitor has a different capability to display colours and that everyone sees these colours differently. Therefore, we cannot guarantee that the colour you see accurately portrays the true colour of the product. Props: This gift does not include props used for the photoshoot. |
| Department | Hobbies and Interests |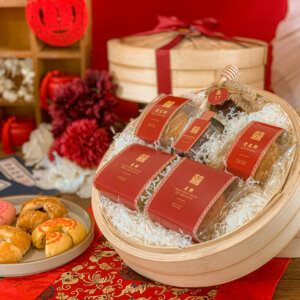 Wedding Gift Box
*Please note that the pastries are made fresh daily with no preservatives. Due to their all-natural ingredients and lack of preservatives, our pastries have a SHORT SHELF LIFE of 10 days. We recommend enjoying them within the recommended period for optimal freshness and taste.
Bamboo steamer baskets are an extremely useful kitchen tool with a history going back thousands of years. With roots in traditional Chinese cuisine, there's no better way for proud parents to announce the wedding than with bridal pastries filled with great flavour and joyful fun! Share the happy news with a little dash of nostalgia with this classic, Vintage Bamboo Wedding Gift Box! Wrapped in a red ribbon as a symbolics of good wishes for wedding day. Let's see what's inside: Lao Gong Bing by Sin Teo Hiang x 1 -Husband's cake! Layers of crispy pastry sprinkled with sesame providing a great smell of sesame! Lao Po Bing by Sin Teo Hiang x 1 -Wife's Cake! Sink your teeth into these soft yet flaky pastry that is filled with blended winter melon and white sesame seeds. Red Bean Paste & Mung Bean Paste Chinese Traditional Wedding Pastry by Sin Teo Hiang x 1 set (2 pcs) -Double Happiness Pastries are usually presented as a proposal gift by the groom's family to the bride's family. Both families will then make the wedding announcement to their relatives and friends by sending out the wedding invitations along with these meaningful cakes to symbolize marital bliss, prosperity, and longevity. Five Treasures Tea x 1 -It is believed promote energy, circulation, tonify the liver, stimulate blood production, and to replenish "chi". The "Five Treasures" refer to the five main ingredients; goji berries, jujube (a type of red date), dried chrysanthemum flowers, rose flower tea, and dried longan fruit. Honey Jar x 1 -Adorned with a cute wooden honeycomb and personalized label. Kraft Box with Custom Premium Label and Card x 1 -All of the items are painstakingly arranged in our 100% recyclable & reusable kraft box. A complimentary customised thank you card will be enclosed with your gift box. We even personalise your wedding box label for you with an MOQ of 20 units. Just let us know what you want to personalise in the form below. Don't Worry! We will send a mockup for you for approval before bulk print. Price: 20-50 boxes: RM79 each 51 - 100 boxes: RM69 each 101 boxes and above: RM59 each **Please place your order at least 3 to 4 weeks in advance** Need to find out more details about your gift box? No worries. Live chat with us
here
for more info Size of box:30cm x 30cm x 10cm
Note:
With Personalisation Option - Two complimentary rounds of revisions are included to perfect the proofs. Nothing will be printed without your approval.
Orders placed less than two weeks before the delivery date are not eligible for artwork customisation.
Pastries are pork free but non-halal. 
RM

79.00