Calinan Chocolate Coated Almonds by Benns Ethicoa
Calinan Chocolate Coated Almonds by Benns Ethicoa
Buy this product to earn
1
Points.
This delicious chocolate coated almonds are made with 72% dark chocolate and are 100% natural. They are also vegan, gluten free, and halal certified. The taste notes of burnt caramel, salted caramel, and red tea with milk make these almonds a truly unique and enjoyable treat. Whether you're enjoying them as a snack or sharing them with friends and family, we know you'll love their irresistible flavor.
In stock
Additional information
Weight
0.15 kg
Dimensions
22 × 14.5 × 5.5 cm
Delivery

1. Please allow 1 to 3 business days to process your order.
2. The gift will be put into a carton box to protect the outer of the gift box. If the box is loose in the carton box, packaging accessories such as foam will be included to secure the gift box. No pricing information will be included.
4. Seal the package and attach the airwaybill to dispatch. Please allow 2 to 6 business days on standard shipping In West Malaysia.

Display

Colour: Actual colours may vary due to every computer monitor has a different capability to display colours and that everyone sees these colours differently. Therefore, we cannot guarantee that the colour you see accurately portrays the true colour of the product.

Props: This gift does not include props used for the photoshoot.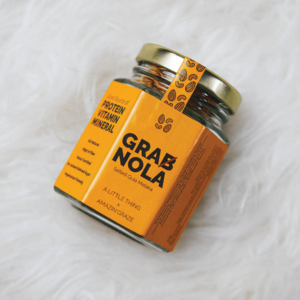 Quickview
A burst of Asian delight. Inspired by ingredients in grandma's larder, our recipe of traditional rolled oats, almonds, creamy cashews, golden flax seeds and sweet coconut baked to perfection with homemade Gula Melaka sauce. Topped with chewy mulberries and tart cranberries to make this a perfect breakfast, snack and comfort food at any time of the day. Try it with milk, soy, almond milk or greek yogurt to enjoy the caramel flavouring from the granola.
RM

12.60