Bridesmaid
Buy this product to earn
10
Points.
Being a bridesmaid is such a gift. "Bridesmaid for a day, best friend for life." Share the joy of your wedding day with a bridesmaid gift set or thank you gift for helping you out through this journey.
Let's see what's inside?
Foldable Travel Hanger x 1 -Lightweight, convenient, and easy to carry around. This folding hanger is small and portable, you can even adjust the hanger length to its maximum length or medium open length. When folded, it is about the size of the palm which is convenient for traveling and carrying.
Stainless Steel Nail Clippers Set x 1 -Emergency nail care for you or your bridesmaids. The perfect nail length, it is all about feeling comfortable with the length of your nails. This pedicure travel kit will be very useful for you it's like when carrying "wedding day emergency kit" with you, or in the bag of one of your bridesmaids, to fix any nail-related accidents!
Team Bride Robe x 1 -Have fun with your squad with these tropical wedding robes. Enjoy your special moments with your bridesmaid and letting them get ready in style and comfort!
Jewellery Organizer Box x 1 -Women do love jewellery! Let them keep that sparkly jewellery in tip-top condition in this Jewellery Organizer Box, compact and small to carry anywhere.
Portable Rechargeable Mini Fan x 1 -Malaysia is all about hot tropical weather year-round, sometimes it can be too hot especially when you are nervous during your big day! So why not have this Intelligent Aromatic Mini Desktop Fan prepared for you and bridesmaids to use in the preparations of wedding, chill and calming.
Keepsake Box & Handwritten Card x 1 -All of the gift items are painstakingly arranged in our premium gift box. A refined satin ribbon will be daintily added as a finishing touch so your gift is ready to be gifted. A complimentary handwritten card will be enclosed with your gift.
Size of box: 33cm x 27cm x 12cm
SKU:

19865
Category: Ready to Ship
Tags: bachelorette party, best gift, bridal shower, creative, curated gift, for bestie, for friends, for her, for sister, perfect gift, unique, wedding
Additional information
Weight
3 kg
Dimensions
33 × 27 × 12 cm
Delivery

1. Please allow 1 to 3 business days to process your order.
2. All the gifts and greeting will be put in the gift box. Each carefully curated and hand-wrapped box ships as a gift, with a handwritten note and no pricing information.
3. The gift box will be put into a carton box to protect the outer of the gift box. If the box is loose in the carton box, packaging accessories such as foam will be included to secure the gift box.
4. Seal the package and attach the airwaybill to dispatch. Please allow 2 to 6 business days on standard shipping In West Malaysia.

Display

Colour: Actual colours may vary due to every computer monitor has a different capability to display colours and that everyone sees these colours differently. Therefore, we cannot guarantee that the colour you see accurately portrays the true colour of the product.

Props: This gift does not include props used for the photoshoot.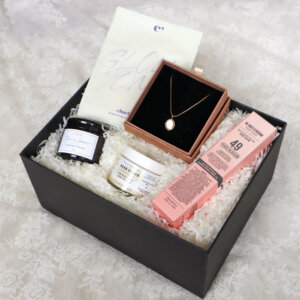 Ready to Ship, Beautifully Yours
You do not need to wait to give a gift for the wedding registry. Surprise and congratulate the bride-to-be with this cute and thoughtful gift before the wedding. It shows how much you care and is happy for her. What's inside: 18k Gold Plated Greca Necklace by Joemetry x 1 - As with other pieces of jewellery, the necklace has been an important site of decoration for the body but also of communication for the person. So, it's never old to give someone you love a necklace. Season 4 Moisturizing Perfumed Hand Cream by W.Dressroom (Peach Blossom) x 1 - W.DRESSROOM creates a fascinating and elegant fragrance based on the modern and trendy design seen on New York Street. Trace of Summer | Wood Sage & Sea Salt Soy Wax Candle by Caldo x 1 - The scent of the sea breeze and aromatic wood sage, which brings you closer to the depths of nature, freedom, summer fun and the beach! Caldo offers a hand-poured soy wax scented candle using an environmentally friendly substance, a clean, non-toxic soy candle. Chuck's Glow On Brightening Peony Mask x 1 - It is a magical mix of 78% peony water and niacinamide which helps your skin radiate and shine bright like a diamond. Everyone knows that diamonds are a girl's best friend. Whipped Shea Body Butter by Dear Scrub x 1 - Add a little extra pampering to your body care routine! Luxurious and smooth, this whipped body butter has been purposefully curated to be deeply moisturising and nourishing for the skin. Contains nutrients such as Vitamin E and Oleic acid. With the richness of the blend of shea butter and oils, it helps increase skin elasticity, reduce signs of aging, moisturize the skin and reduce inflammation. Keepsake Box & Handwritten Card x 1 - All of the gift items are painstakingly arranged in our premium gift box. A refined satin ribbon will be daintily added as a finishing touch so your gift is ready to be gifted. A complimentary handwritten card will be enclosed with your gift. Size of box: 25cm x 20cm x 12.5cm
RM

329.00