Sparkle of Joy
Buy this product to earn
5
Points.
Pre Order Now. Delivery starts from 14th October 2022 onwards.
Gift giving is an integral part of our culture and every festival. The perfect gifts speak volumes about the love you carry in your heart for your family and friends. A thoughtful gift has the power to bring a big smile. When it comes to festivals, Diwali is an extravagant one. Gifting is the highlight of this festival, and picking an impeccable Deepavali gift is an interesting task.
For this Deepavali, we've curated the ultimate wholesome gift set for you and your loved ones. Light up your life with this Sparkle of Joy Gift Set, specially curated for you to share with your loved ones. Send best wishes to your loved ones with this Deepavali gift set.
Let's see what we have brought together for you!
Crunchy Murukku x 1 -Satisfyingly crispy and delicious in every bite. It doesn't matter your race, it's a traditional Indian snack loved and enjoyed by everyone in Malaysia.
TG Masala Tea (Spiced Milk Tea) x 1 -Filled with love, flavours and everything needed to keep your Deepavali full of deliciousness. It gives us a chance to slow down, relax, and create something wonderfully soothing and warm for us to enjoy. Making Traditional Chai does not need to be difficult. We have put together an easy recipe to follow!
Colourful Diya Lamp x 1 -Diya signifies purity, goodness, good luck and power. Bring home this beautiful Diya to keep touch of elegance!
100% Recyclable & Reusable Kraft Box with Sleeve x 1 -Beautiful artificial flowers and lace are used to wrap the packaging.
Happy Deepavali Greeting Card x 1 -Send your Deepavali wishes to family & friends! We hand write your message on the card to make it more personal.
Out of stock
Additional information
Weight
2 kg
Dimensions
30 × 19.5 × 8 cm
Delivery

1. Delivery starts from 14th October 2022 onwards.
2. All the gifts and greeting will be put in the gift box. Each carefully curated and hand-wrapped box ships as a gift, with a handwritten note and no pricing information.
3. The gift box will be put into a carton box to protect the outer of the gift box. If the box is loose in the carton box, packaging accessories such as foam will be included to secure the gift box.
4. Seal the package and attach the airwaybill to dispatch. Please allow 2 to 6 business days on standard shipping In West Malaysia.

Display

Colour: Actual colours may vary due to every computer monitor has a different capability to display colours and that everyone sees these colours differently. Therefore, we cannot guarantee that the colour you see accurately portrays the true colour of the product.

Props: This gift does not include props used for the photoshoot.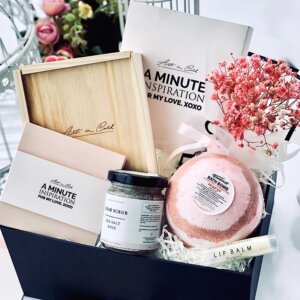 Ready to Ship, Beautifully Yours
You always gain by giving love', by Reese Witherspoon. Sending love to someone you love anytime and let them know you think of her. What's inside: A Minute Inspiration - For My Love XOXO by Art In Card x 1 - This collection is dedicated to the art of establishing concrete connections and relationships, ones that last long and wax strong. Give your loved one a card a day. Surprise him or her with real sweet and romantic message. Mini Champagne Bottle with Chocolate by Ferrero Rocher x 1 - Who can deny Ferrero Rocher chocolate? From the toasting of the hazelnuts to the making of the chocolate, Ferrero owns unequalled expertise in the creation of the inimitable Ferrero Rocher recipe. Anyway, just look at these chocolates in the mini champagne bottles makes people happy! Love is in the Bear x1 - Hidden Bear Bath Bomb by Wunderbath x 1 - Turn someone bath time beary beary romantic? This is not your average bath bomb, as it swirls, it will reveal a hidden BEAR RING (adjustable size). Let the pink and red color swirl on your tub like a heartbeat and the Lavender Rose scent turn you into a hopeless romantic. Preserved Flower Mini Bouquet x 1 - What is better than having a long lasting preserved flowers to show your love to your love one? It's means 'our love never die', cliche? but it works:) Sea Salt Rose Natural Body Scrub by Dear Scrub x 1 - Natural handmade body scrub, without additive of paraben, SLS, preservative, artificial colouring. Contains anti-oxidants that fight off free radicals and skin irritant & Refreshing scent. Great as an overall body scrub, especially on dry and calloused skin such as elbow and heels. Suitable for all skin types. Grapefruit Lip Balm by Mousse Handmade x 1 - This Grapefruit Lip Balm moisturizes your lips making them feel soft & sensationally smooth. With the uplifting, sweet & slightly tangy scent of natural grapefruit essential oil, this lip balm glides on like silk, leaving a protective, lustrous sheen. Keepsake Box & Handwritten Card x 1 - All of the gift items are painstakingly arranged in our premium gift box. A refined satin ribbon will be daintily added as a finishing touch so your gift is ready to be gifted. A complimentary handwritten card will be enclosed with your gift. Size of box: 25cm x 20cm x 12.5cm
RM

279.00