Sinar Syawal 2023 Raya Gift Box
Buy this product to earn
29
Points.
PRE-ORDER: Delivery start from 3rd April 2023
Celebrate Hari Raya Aidilfitri in style with our stunning Wayang Kulit-inspired gift box! Immerse yourself in the beauty and tradition of Malay culture with a curated selection of items that are sure to delight your senses and warm your heart. Inspired by the ancient art of Wayang Kulit, our gift box is also a tribute to the centuries-old tradition of Javanese puppetry.
Open the box and discover a world of treasures that are perfect for sharing with family and friends during this festive season. With a touch of creativity using vellum paper and enchanted wood box, we've created a beautiful Wayang Kulit shadow screen that is perfect for storytelling and entertainment. You can also marvel at our exquisite Wayang Kulit-Inspired shadow puppet, which comes complete with its very own shadow screen.
Let our Wayang Kulit-inspired gift box be a part of your Hari Raya Aidilfitri celebrations this year. Share the beauty and richness of the Wayang Kulit tradition with your loved ones and experience the wonder and enchantment of this ancient art form together. It's a thoughtful and meaningful gift that will sure to create lasting memories for you and your loved ones.
What's Inside?
Gold Coin by Habib x 1 –This remarkable piece of gold coin is crafted from 999.99 Fine Gold, weighing in at 0.20 grams. Its design motif is an Arabesque pattern, a style inspired by Islamic art that is characterised by intricate, flowing designs with geometric patterns. This type of design is often associated with luxury and refinement, making the coin both a valuable investment and a beautiful work of art. 
Budding Meadow Camomile Teabags by Twinings x 1 –The Budding Meadow Camomile from the Discovery Collection is pure and simple. Just the whole heads of camomile flowers plucked and dried straight from the field for a wonderfully relaxing Infusion. The beautifully designed box contains a lovely little golden bag filled with loose leaf pyramid tea bags. The best camomile evokes the essence of a summer meadow: floral, uplifting and with a breezy scent that calms the spirit. By using whole pollen heads our Master Blenders capture the sweet nature of camomile, creating a blend that carries you gently to the meadow of your imagination. A perfect infusion for moments of calm.
Milk Cappuccino Chocolate Pearls by Godiva x 1 –Sink your sweet tooth into the creamy milk chocolate cappuccino pearls. The rich taste of cappuccino is enrobed in luscious milk chocolate, creating a delectable combination. Packaged in convenient take-me-with-you tins, these chocolate pearls are perfect for those on the go. They are ideal for a gift, to share, or for your own enjoyment.
Cocoa Chips and Almond Butter Cookies by K.Harrodson x 1 -Get ready to indulge in the ultimate cocoa and nutty goodness with our Cocoa Chips and Almond Butter Cookies! These crispy, melt-in-your-mouth treats are made with premium quality ingredients, including rich cocoa chips and smooth almond butter. Each bite offers a delightful crunch and a burst of flavor that will leave you craving for more. Whether you're looking for a midday snack or a sweet treat to satisfy your cravings, these cookies are the perfect choice.
Wood Essential Oil Diffuser x 1 –The Wood Essential Oil Diffuser is an all-natural alternative to conventional diffusers. The wood fibres work perfectly as a natural carrier to absorb essential oil and disperse its scent gently and slowly, effectively slowing down the evaporation of the aroma particles in pure essential oils. Each of the Diffusing Wood is handcrafted by our artisan with the highest quality of black walnut woods with enticing grains, making it not only a functional scenting piece but also a delicate ornament at home.
Eucalyptus Essential Oil by Soapcart x 1 –Revitalize your senses with the refreshing aroma of Eucalyptus Essential Oil, known for its invigorating and purifying properties. Breathe in the natural goodness and experience a rejuvenating boost to your mind, body, and soul.
Hazelnut Chocolate Granola by Big Nuts x 1 –There's nothing quite like a chocolaty meal to cure sadness, and this Hazelnut Chocolate Granola is not only delicious but also packed with nutritious ingredients that are great for your health. Oats are a great source of fibre, which can help with weight loss and lower cholesterol levels, while almonds are rich in vitamin E and antioxidants, which can provide glowing and youthful skin. Hazelnuts are also known to promote healthy bowel movement and keep skin healthy, while raisins are great for oral health. Whether you're looking for a nutritious snack or something to fuel your workout, the Hazelnut Chocolate Granola has got you covered.
Lightly Roasted Almond Nuts by Big Nuts x 1 –Get ready to nourish your body from the inside out with our lightly roasted almond nuts! Packed with vitamins and minerals, these tasty treats are perfect for promoting glowing and youthful skin, strong and healthy bones, and a happy heart. With potential cholesterol-lowering benefits and the ability to sustain energy levels, these almonds are the ultimate power snack. Try them out and treat your body to the goodness it deserves!
Wayang Kulit-Inspired Shadow Puppet x 2 –Get ready to celebrate Hari Raya in style with our Wayang Kulit-Inspired Shadow Puppets infused with festive cheer! Each puppet is thoughtfully crafted with vibrant colors and intricate designs, showcasing the beauty and cultural significance of this joyous occasion. Whether it's for storytelling, performances, or simply adding to your collection, our Wayang Kulit-Inspired Shadow Puppets are a must-have for anyone who wants to celebrate Hari Raya in true style!
Raya's Treasure Trove Box x 1 –Embrace the festive spirit of Hari Raya with our exquisite Raya's Treasure Trove Box. Adorned with a magnificent Wayang Kulit shadow screen, this box unlocks the treasures of Raya's world and is your gateway to an adventure filled with wonder and excitement. Let the traditional charm of the Wayang Kulit shadow screen elevate your Raya celebrations and make a lasting impression on your loved ones. 
Handwritten Raya Themed Greeting Card x 1 –Say it with heart this Raya season with our Handwritten Raya Themed Greeting Card. Personalised with your heartfelt wishes, this card is sure to warm hearts and spread joy. Don't settle for a bland message when you can make it special with our Handwritten Raya Themed Greeting Card.
Size of box: 36cm x 30cm x 12cm
Due to supplier shortages and out of stock items, some items in your order may have been replaced. Please be assured that we have made every effort to ensure that the replacement items are of comparable quality and value to the original items.
Please note that the replacement items may differ from the original items in terms of color, shape, or size. To avoid any confusion, please refer to the individual item's image instead of the group photo for the exact items that you will receive. You may also refer to the description for more information about the replacement items.
Additional information
Weight
2 kg
Dimensions
36 × 30 × 12 cm
Delivery

1. Please allow 2 to 6 business days to process your order.
2. All the gifts and greeting will be put in the gift box. Each carefully curated and hand-wrapped box ships as a gift, with a handwritten note and no pricing information.
3. The gift box will be put into a carton box to protect the outer of the gift box. If the box is loose in the carton box, packaging accessories such as foam will be included to secure the gift box.
4. Seal the package and attach the airwaybill to dispatch. Please allow 2 to 6 business days on standard shipping In West Malaysia.

Display

Colour: Actual colours may vary due to every computer monitor has a different capability to display colours and that everyone sees these colours differently. Therefore, we cannot guarantee that the colour you see accurately portrays the true colour of the product.

Props: This gift does not include props used for the photoshoot.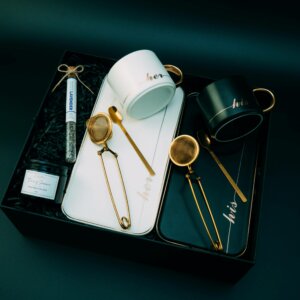 Ready to Ship
This is what newlywed dreams are made of - slow mornings in bed with tea and a candle, and warm evenings spent cooking at home. Wish those lovebirds a happily ever after with everything they will cherish now and forever. What's inside: Trace of Summer | Wood Sage & Sea Salt Soy Wax Candle by Caldo x 1 - The scent of the sea breeze and aromatic wood sage, which brings you closer to the depths of nature, freedom, summer fun and the beach! Caldo offers a hand-poured soy wax scented candle using an environmentally friendly substance, a clean, non-toxic soy candle. Ceramic Couple Mugs Set (Tray Mug Spoon) x 1 - Inspired by British Royal style, this design with exquisite coloured glaze, gleaming gold trim brings elegance and beauty to your home. This classic design will complement traditional and contemporary tastes, which has made it a popular gift. Chill and enjoy an afternoon tea with this ceramic couple mug with your other half. Lavender Flower Tea Tube x 1 - Lavender is one of the most beloved and often-used plants in the world. From aromatherapy to culinary; its name has become synonymous with a light shade of purple. Lavender tea is made from the dried lavender flower buds. Studies suggest it may help with calming the body and mind, help with anxiety, positively influence the mood, help with depression, act as a sedative and reduce pain. Tea Infuser x 2 - Perfect for making a refreshing cup of tea. It could filter residue, coffee particles, ingredient, chafing dish conveniently and prevent scattering suspended substance effectively. Keepsake Box & Handwritten Card x 1 - All of the gift items are painstakingly arranged in our premium gift box. A refined satin ribbon will be daintily added as a finishing touch so your gift is ready to be gifted. A complimentary handwritten card will be enclosed with your gift. Size of box: 33cm x 27cm x 12cm
RM

269.00