Pasta Nite
Buy this product to earn
7
Points.
Less UPSETTI, more SPAGHETTI. Nothing beats a real good spaghetti except the one that cooked by your loved one. This gift set has everything you need to kick start your very own pasta night.
What's inside?
A Little Spice Seasoning Kit x 1 – Your very own little spice kit that you can bring anywhere. Sprinkle the natural spices in your favourite dish like pasta or pizza. You will love the natural goodness that is provided by our mother Earth.
Spaghetti Spoon x 1 – Most people do not have a spaghetti spoon in their kitchen. But how cool is it if you have one?
Organic Pasta Spaghetti by Bemtat x 1 – Organic pasta is pasta product from organic durum wheat. The pasta was produced with no chemical pesticide involve in the growing of the wheat nor in the production.
Olive Oil (250ml) by Colavita x 1 – For nearly 30 years Colavita has brought to the world its timeless taste and quality Extra Virgin Olive Oil still produced accordingly to the family tradition. This Premium Selection extra virgin olive oil is the perfect everyday oil, which is well-balanced between fruit and spice and delicate in flavor.
Keepsake Box & Handwritten Card x 1 – All of the gift items are painstakingly arranged in our premium gift box. A refined satin ribbon will be daintily added as a finishing touch so your gift is ready to be gifted. A complimentary handwritten card will be enclosed with your gift.
Size of box: 33cm x 27cm x 12cm
SKU:

19160
Categories: Edible Indulgences, Ready to Ship
Tags: anniversary, best gift, birthday, creative, curated gift, for bestie, for friend, for her, for sister, gift box, mom, mother, mother's day, perfect gift, unique
Additional information
Weight
5 kg
Dimensions
33 × 27 × 12 cm
Delivery

1. Please allow 1 to 3 business days to process your order.
2. All the gifts and greeting will be put in the gift box. Each carefully curated and hand-wrapped box ships as a gift, with a handwritten note and no pricing information.
3. The gift box will be put into a carton box to protect the outer of the gift box. If the box is loose in the carton box, packaging accessories such as foam will be included to secure the gift box.
4. Seal the package and attach the airwaybill to dispatch. Please allow 2 to 6 business days on standard shipping In West Malaysia.

Display

Colour: Actual colours may vary due to every computer monitor has a different capability to display colours and that everyone sees these colours differently. Therefore, we cannot guarantee that the colour you see accurately portrays the true colour of the product.

Props: This gift does not include props used for the photoshoot.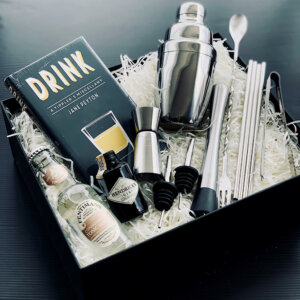 Ready to Ship
It is the perfect gift for the gin lover in your life. With inspiration from the new favourite cocktail book, tonic and a muddler, an Insta-worthy cup, and some delicious cookies to savour, you'll make their hours just a bit happier. What's inside: Bartender Kit - Cocktail Mixing Set x 1 - The best cocktail shaker kit for your choice. It contains enough tools you need to create amazing cocktails. With this set you can mix drinks like a professional. Including cocktail shaker, stainless steel straw, jigger, muddler, ice tongs, mixing spoon and 2 pourers. Drink: A Tippler's Miscellany by Jane Peyton x 1 - As Dr Johnson memorably wrote: 'Alcohol is life's second greatest pleasure'. Humans were seeking out alcohol from the moment they first walked. This book contains everything you have ever wanted to know about drink, from how to make absinthe to the cultural history of zythos (beer). Packed with fascinating miscellany and curious facts to entertain your friends at the pub, this book is an essential compendium of knowledge about booze. Bottoms up! Miniature Gin (5cl) by HENDRICK'S x 1 - Hendrick's is the marriage of two different spirits from two rare and unusual stills: the Bennet still and the Carter-Head still. By combining the two, an extraordinarily smooth gin that has the required character and balance of subtle flavours can be created. No other gin tastes like Hendrick's because no other gin is made like Hendrick's. The gin's are infused with the remarkable Bulgarian Rosa Damascena and specially selected cucumbers from the finest producers. Classic Connoisseurs Tonic Water by Fentimans x 1 - This versatile tonic has been specially created with a delicate infusion of natural botanicals and quinine for a clean and balanced taste. The delicate flavour profile enhances and lifies the beautiful botanicals of premium spirits, letting the spirit be the hero. Keepsake Box & Handwritten Card x 1 - All of the gift items are painstakingly arranged in our premium gift box. A refined satin ribbon will be daintily added as a finishing touch so your gift is ready to be gifted. A complimentary handwritten card will be enclosed with your gift. Size of box: 33cm x 27cm x 12cm
RM

269.00