Jyoti – 2023 Diwali Luxury Gift Box
Buy this product to earn
11
Points.
Pre Order Now. Delivery starts from 26th October 2023
Diwali, the Festival of Lights, is a joyous celebration of the victory of light over darkness and the triumphant ascent of good over evil. During this special occasion, lighting diyas (oil lamps) carries profound symbolism. It is the act of welcoming "jyoti" into our homes and lives, a beautiful gesture that radiates positivity, joy, and the radiant glow of hope.
Our Diwali Gift Box, lovingly named "Jyoti," perfectly encapsulates the essence of this remarkable festival. It is the embodiment of the light that dispels darkness, the wisdom that conquers ignorance, and the hope that fuels our greatest aspirations.
Inside "Jyoti," you'll discover a curated selection of items that resonate with the spirit of Diwali. These carefully chosen treasures mirror the festival's themes of light, wisdom, and hope, inviting you to share its blessings with your loved ones.
What's inside:
Mystical Genie's Lamp Incense Holder x 1 – Light the lamp and let the fragrant incense transport you to a world of serenity and peace, like a wish granted by a genie.
Dazzling Diya x 1 – Illuminate your home with the soft, warm glow of traditional diyas, symbolizing the triumph of light over darkness.
Masala Chai Tea by Basilur (10 tea bags) x 1 – Enjoy the flavors of India with our aromatic Masala Chai Tea blend, perfect for cozy evenings and gatherings.
Majestic Elephant Dream Pillowcase x 1 – Adorn your living space with a touch of Indian artistry using our beautifully crafted elephant design pillowcase.
Incense Cones by Tulasi (15 cones) x 1 – Fill your surroundings with captivating scents using our premium incense cones, enhancing the ambiance of your Diwali celebrations.
Crunchy Murukku x 1 – Savor the flavors of tradition with our crunchy Murruku, a delightful snack that adds a touch of festivity to your celebrations.
Peacock Feather Ornament x 1 – Embrace the grace and beauty of peacocks with a decorative peacock feather, a symbol of prosperity and new beginnings.
Handwritten Diwali Greeting Card x 1 – Share your warm wishes and sentiments with a beautifully crafted Diwali greeting card, perfect for conveying your love and blessings.
Mughal Garden-Inspired Keepsake Box x 1 – The artwork on the cover of our keepsake box draws inspiration from India's Mughal gardens, showcasing their intricate patterns and lush flora, offering a glimpse of their grandeur and elegance. This design harmoniously blends elements from Mughal, Moroccan, and Persian art traditions, This captivating illustration transports you to a world where these cultural traditions harmoniously intertwine. From majestic peacocks to iconic architectural elements, it reflects the rich heritage, nature's beauty, and traditional motifs of India. With pastel hues and intricate details, it adds a touch of vintage charm to any space and can be hung on the wall as a decorative piece.
Out of stock
Additional information
Weight
5 kg
Dimensions
33 × 27 × 12 cm
Delivery

1. Delivery starts from 23th October 2023 onwards.
2. All the gifts and greeting will be put in the gift box. Each carefully curated and hand-wrapped box ships as a gift, with a handwritten note and no pricing information.
3. The gift box will be put into a carton box to protect the outer of the gift box. If the box is loose in the carton box, packaging accessories such as foam will be included to secure the gift box.
4. Seal the package and attach the airwaybill to dispatch. Please allow 2 to 6 business days on standard shipping In West Malaysia.

Display

Colour: Actual colours may vary due to every computer monitor has a different capability to display colours and that everyone sees these colours differently. Therefore, we cannot guarantee that the colour you see accurately portrays the true colour of the product.

Props: This gift does not include props used for the photoshoot.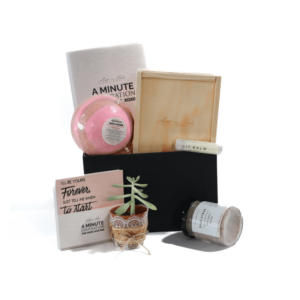 Ready to Ship, Beautifully Yours
You always gain by giving love', by Reese Witherspoon. Sending love to someone you love anytime and let them know you think of her. What's inside: A Minute Inspiration - For My Love XOXO by Art In Card x 1 - This collection is dedicated to the art of establishing concrete connections and relationships, ones that last long and wax strong. Give your loved one a card a day. Surprise him or her with real sweet and romantic message. Mini Champagne Bottle with Chocolate by Ferrero Rocher x 1 - Who can deny Ferrero Rocher chocolate? From the toasting of the hazelnuts to the making of the chocolate, Ferrero owns unequalled expertise in the creation of the inimitable Ferrero Rocher recipe. Anyway, just look at these chocolates in the mini champagne bottles makes people happy! Love is in the Bear x1 - Hidden Bear Bath Bomb by Wunderbath x 1 - Turn someone bath time beary beary romantic? This is not your average bath bomb, as it swirls, it will reveal a hidden BEAR RING (adjustable size). Let the pink and red color swirl on your tub like a heartbeat and the Lavender Rose scent turn you into a hopeless romantic. Preserved Flower Mini Bouquet x 1 - What is better than having a long lasting preserved flowers to show your love to your love one? It's means 'our love never die', cliche? but it works:) Sea Salt Rose Natural Body Scrub by Dear Scrub x 1 - Natural handmade body scrub, without additive of paraben, SLS, preservative, artificial colouring. Contains anti-oxidants that fight off free radicals and skin irritant & Refreshing scent. Great as an overall body scrub, especially on dry and calloused skin such as elbow and heels. Suitable for all skin types. Grapefruit Lip Balm by Mousse Handmade x 1 - This Grapefruit Lip Balm moisturizes your lips making them feel soft & sensationally smooth. With the uplifting, sweet & slightly tangy scent of natural grapefruit essential oil, this lip balm glides on like silk, leaving a protective, lustrous sheen. Keepsake Box & Handwritten Card x 1 - All of the gift items are painstakingly arranged in our premium gift box. A refined satin ribbon will be daintily added as a finishing touch so your gift is ready to be gifted. A complimentary handwritten card will be enclosed with your gift. Size of box: 25cm x 20cm x 12.5cm
RM

279.00