Inspiration
Buy this product to earn
11
Points.
We all want to feel moved, and then use it to create happiness, passion and purpose. Inspire someone by sending a box that has 30 days of inspirational quote cards and granola that keep them pumped up physically and emotionally. Besides, Frankincense essential oil is excellent for relaxation, which is crucial and often neglected in our busy lives.
What's inside:
A Minute Inspiration – Empowerment by Art In Card x 1 – Contains 30 Affirmations quote cards. Comes with a beautiful wooden box to display the cards. Perfect as daily inspiration and positive affirmation to lift your spirits throughout the day.
Eucalyptus Radiata Essential Oil by Soap Cart x 1 – The Eucalyptus Radiata Essential Oil has a clear to pale yellow tint and a medicinally minty, refreshing smell. The smell of Eucalyptus Radiata Essential Oil soothes and awaken the mind, making it one of the best oils to enhance your concentration. Combine that with its clean, fresh and soothing scent; it makes an excellent air refresher. The Eucalyptus Radiata Essential Oil is considered the most versatile among the many variants of the Eucalyptus plant. It is a good remedy for stuffy and runny nose.
Salted Gula Melaka Granola by Amazin'Graze x 1 – A burst of Asian delight. Inspired by ingredients in grandma's larder, recipe of traditional rolled oats, almonds, creamy cashews, golden flax seeds and sweet coconut baked to perfection with homemade Gula Melaka sauce.
Ceramic Essential Oil Burner x 1 – This stylish, beautiful, and elegant porcelain fragrance oil burner is a perfect home decor. With just a few drops of essential oil – it helps in relaxation and brings a romantic atmosphere into your room.
Lavender Flower Tea Tube x 1 – Lavender is one of the most beloved and often-used plants in the world. It's known for its calming effects, making it the perfect bedtime tea.
Keepsake Box & Handwritten Card x 1 – All of the gift items are painstakingly arranged in our premium gift box. A refined satin ribbon will be daintily added as a finishing touch so your gift is ready to be gifted. A complimentary handwritten card will be enclosed with your gift.
Size of box: 25cm x 20cm x 12.5cm
SKU:

529
Categories: Ready to Ship, Relax & Recharge
Tags: anniversary, best gift, birthday, boyfriend, colleague, creative, curated gift, entreprenuer, for bestie, for friend, for her, for sister, friend, gift box, girlfriend, perfect gift, unique
Additional information
Weight
3 kg
Dimensions
25 × 20 × 12.5 cm
Delivery

1. Please allow 1 to 3 business days to process your order.
2. All the gifts and greeting will be put in the gift box. Each carefully curated and hand-wrapped box ships as a gift, with a handwritten note and no pricing information.
3. The gift box will be put into a carton box to protect the outer of the gift box. If the box is loose in the carton box, packaging accessories such as foam will be included to secure the gift box.
4. Seal the package and attach the airwaybill to dispatch. Please allow 2 to 6 business days on standard shipping In West Malaysia.

Display

Colour: Actual colours may vary due to every computer monitor has a different capability to display colours and that everyone sees these colours differently. Therefore, we cannot guarantee that the colour you see accurately portrays the true colour of the product.

Props: This gift does not include props used for the photoshoot.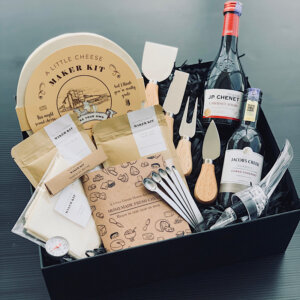 Ready to Ship
For someone who loves wine, this box is exclusively for them. Aerate your wine with a portable aerator anytime, anywhere. Enjoy a good time with sipping red wine while pairing with your homemade cheese. Trust us that this is a true chillax! What's inside: A Little Cheese Making Kit - Fresh Cheese Making Under An Hour x 1 - You can make your fresh cheese under an hour. This kit can make 9 different cheeses like mozzarella, burrata, cottage cheese, ricotta, cream cheese, paneer, halloumi, chevre, squeaky. No aging, no frustration, just full of fun and healthy homemade cheese.So why diy when you can buy? It is so much healthier obviously. This cheese kit can make up to 50liter of milk. With just milk and some basic kitchen equipment, you can kick start this diy project. What's inside A Little Cheese? Rennet x 1 - To coagulate milk, rennet is one of the main element to make cheese. Our rennet is vegetarian friendly and it can use on 50 liters of milk. Just imagine how much cheese it will become. Citric Acid x 1 - A weak acid compound and natural preservative that you can find in citrus fruits such as lemon. It is key to transform milk into cheese. Cheese Salt x 1 - Add flavour on your cheese with Himalayan cheese salt. Thermometer  x 1 - Timing and temperature of milk is crucial to determine the success of your cheese. A thermometer will make cheese making so much easier. Measuring Spoons Set x 1 - This mini measuring spoon has smaller scale that can measure smaller volume of ingredients which is perfect to make small batch of cheese. Cheese Knife Set x 1 - Our cheese knife set includes cheese fork, small spade, narrow plane knife and flat chiseled cheese knife. These knives are adorable and perfect accessories for cheese lover. Cheese Cloth x 1 - A fine muslin cloth to separate your cheese with your whey. It is reusable, Instruction Guide x 1 - Just follow the instruction and you can make 9 different fresh cheeses on your own. IMPORTANT: No cheese, milk inside Keepsake Wooden Box & Handwritten Card x 1 - All of the gift items are painstakingly arranged in a round wooden A complimentary handwritten card will be enclosed with your gift. Cabernet Syrah (18.7cl) by JP Chenet x 1 - A perfect balance, an intensely fruity wine with a silky body. Aromas of cherry and blackcurrant, a touch of liquorice and peppery notes. Shiraz Cabernet Red Wine (18.75cl) by Jacob's Creek x 1 - A classically Australian blend of Shiraz and Cabernet Sauvignon made in a soft, approachable style. Dark cherry and plum with notes of mocha spice. A bright, medium length wine made in an approachable style. The palate offers plum and warmed berry flavours and lovely soft tannins. Wine Aerator Pourer x 1 - Elegant Design to Enhance the Mouthfeel of Wine. Perfect wine gift for both experiences wine enthusiasts or regular wine drinkers. Wine Aerator Pourer can be inserted into your wine bottle directly and aerates wine instantly. Keepsake Box & Handwritten Card x 1 - All of the gift items are painstakingly arranged in our premium gift box. A refined satin ribbon will be daintily added as a finishing touch so your gift is ready to be gifted. A complimentary handwritten card will be enclosed with your gift. Size of box: 33cm x 27cm x 12cm
RM

209.00