Golden
Buy this product to earn
7
Points.
Send a youth potion to someone and pamper her with a little tea set. This noble gold themed gift box doesn't only look elegant, but it is presentable in every way.
What's inside:
Youth Potion Body Butter by Wunderbath x 1 – Formulated with Rose Hip Oil, antioxidants packed botanical to assist with cell regeneration, paired with the anti-inflammatory powerhouse – Green Tea Extract. Combined with a revitalizing blend of Rose Geranium and Neroli essential oils, well known for its regenerating properties. I bet no woman can resist this anti-aging potion.
Gold Mug x 1 – This showpiece of unique craftsmanship of this gold-coated porcelain mug will add style, class and serve as a decoration on your table.
Original Chocolate Chip Cookies by Famous Amos x 1 – Famous Amos original chocolate chip cookies are baked into the classic crunchy cookies you crave using semi-sweet chocolate chips and flavourful ingredients from the most renowned places in the world to create that melt-in-your-mouth sensation adored by cookie lovers all over.
Tea Infuser x 1 – Perfect for making a refreshing cup of tea. It could filter residue, coffee particles, ingredients, chafing dish conveniently and prevent scattering suspended substance effectively.
Lavender Flower Tea Tube x 1 – Lavender is one of the most beloved and often-used plants in the world. From aromatherapy to culinary; its name has become synonymous with a light shade of purple. Lavender tea is made from the dried lavender flower buds. Studies suggest it may help with calming the body and mind, help with anxiety, positively influence the mood, help with depression, act as a sedative and reduce pain.
Keepsake Box & Handwritten Card x 1 – All of the gift items are painstakingly arranged in our premium gift box. A refined satin ribbon will be daintily added as a finishing touch so your gift is ready to be gifted. A complimentary handwritten card will be enclosed with your gift.
Size of box: 25cm x 20cm x 12.5cm
SKU:

16678
Categories: Beautifully Yours, Ready to Ship
Tags: anniversary, best gift, birthday, creative, curated gift, for bestie, for friend, for her, for sister, girlfriend, Golden, pamper, perfect gift, unique, wife, woman
Additional information
Weight
2 kg
Dimensions
25 × 20 × 12.5 cm
Delivery

1. Please allow 1 to 3 business days to process your order.
2. All the gifts and greeting will be put in the gift box. Each carefully curated and hand-wrapped box ships as a gift, with a handwritten note and no pricing information.
3. The gift box will be put into a carton box to protect the outer of the gift box. If the box is loose in the carton box, packaging accessories such as foam will be included to secure the gift box.
4. Seal the package and attach the airwaybill to dispatch. Please allow 2 to 6 business days on standard shipping In West Malaysia.

Display

Colour: Actual colours may vary due to every computer monitor has a different capability to display colours and that everyone sees these colours differently. Therefore, we cannot guarantee that the colour you see accurately portrays the true colour of the product.

Props: This gift does not include props used for the photoshoot.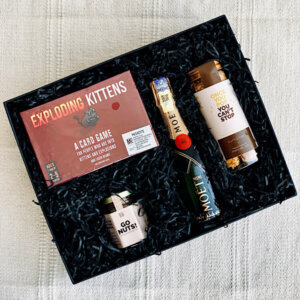 Ready to Ship
Never too old to party. This perfectly curated gift has almost everything to make theirs count: from the Moet, all-time favourite playing cards, delicious treats to enjoy, the only thing they need to do is just hit some music and get the party started. What's inside: Mini Moet Champagne 20cl x 1 - Moet and Chandon Imperial Brut Champagne is an iconic blend that fills your palate with the flavours of pears, apples, peaches as well as citrus fruits. Pairs perfectly with sushi, white fish, white meats, scallops, oysters and white fruits. This share pack is perfect for sharing with friends and family. Playing Card by Exploding Kitten x 1 - "It's like UNO, except there are goats, magical enchiladas and kittens that can kill you."- CNN. This game is insane and selling hot in the world. Try this highly-strategic, kitty-powered version of Russian Roulette. Gourmet Popcorn by Popcorn Time x 1 - Popcorn Time features all-natural Gourmet Popcorn blanketed in caramel crunch. Unlike Popcorn you eat at carnival, this Gourmet Popcorn will bring you to the next level. They fit right in on any sophisticated cocktail party. Go Nuts' Wholesome Mix Nuts by Amazin'Graze x 1 - A delicious blend of sweet almonds, creamy cashews, and earthy walnuts. Enjoy the finest nuts roasted for a big flavour. Packed with protein and high in fibre, this trail mix will keep you full and focused throughout the day. Keepsake Box & Handwritten Card x 1 - All of the gift items are painstakingly arranged in our premium gift box. A refined satin ribbon will be daintily added as a finishing touch so your gift is ready to be gifted. A complimentary handwritten card will be enclosed with your gift. Size of box: 33cm x 27cm x 12cm
RM

209.00