For someone I love
Buy this product to earn
13
Points.
You always gain by giving love', by Reese Witherspoon. Sending love to someone you love anytime and let them know you think of her.
What's inside:
A Minute Inspiration – For My Love XOXO by Art In Card x 1 – This collection is dedicated to the art of establishing concrete connections and relationships, ones that last long and wax strong. Give your loved one a card a day. Surprise him or her with real sweet and romantic message.
Mini Champagne Bottle with Chocolate by Ferrero Rocher x 1 – Who can deny Ferrero Rocher chocolate? From the toasting of the hazelnuts to the making of the chocolate, Ferrero owns unequalled expertise in the creation of the inimitable Ferrero Rocher recipe. Anyway, just look at these chocolates in the mini champagne bottles makes people happy!
Love is in the Bear x1 – Hidden Bear Bath Bomb by Wunderbath x 1 – Turn someone bath time beary beary romantic? This is not your average bath bomb, as it swirls, it will reveal a hidden BEAR RING (adjustable size). Let the pink and red color swirl on your tub like a heartbeat and the Lavender Rose scent turn you into a hopeless romantic.
Preserved Flower Mini Bouquet x 1 – What is better than having a long lasting preserved flowers to show your love to your love one? It's means 'our love never die', cliche? but it works:)
Sea Salt Rose Natural Body Scrub by Dear Scrub x 1 – Natural handmade body scrub, without additive of paraben, SLS, preservative, artificial colouring. Contains anti-oxidants that fight off free radicals and skin irritant & Refreshing scent. Great as an overall body scrub, especially on dry and calloused skin such as elbow and heels. Suitable for all skin types.
Grapefruit Lip Balm by Mousse Handmade x 1 – This Grapefruit Lip Balm moisturizes your lips making them feel soft & sensationally smooth. With the uplifting, sweet & slightly tangy scent of natural grapefruit essential oil, this lip balm glides on like silk, leaving a protective, lustrous sheen.
Keepsake Box & Handwritten Card x 1 – All of the gift items are painstakingly arranged in our premium gift box. A refined satin ribbon will be daintily added as a finishing touch so your gift is ready to be gifted. A complimentary handwritten card will be enclosed with your gift.
Size of box: 25cm x 20cm x 12.5cm
SKU:

539
Categories: Beautifully Yours, Ready to Ship
Tags: anniversary, best gift, birthday, creative, curated gift, for bestie, for friend, for her, for sister, gift box, girlfriend, perfect gift, unique, valentine, wife
Additional information
Weight
3 kg
Dimensions
25 × 20 × 12.5 cm
Delivery

1. Please allow 1 to 3 business days to process your order.
2. All the gifts and greeting will be put in the gift box. Each carefully curated and hand-wrapped box ships as a gift, with a handwritten note and no pricing information.
3. The gift box will be put into a carton box to protect the outer of the gift box. If the box is loose in the carton box, packaging accessories such as foam will be included to secure the gift box.
4. Seal the package and attach the airwaybill to dispatch. Please allow 2 to 6 business days on standard shipping In West Malaysia.

Display

Colour: Actual colours may vary due to every computer monitor has a different capability to display colours and that everyone sees these colours differently. Therefore, we cannot guarantee that the colour you see accurately portrays the true colour of the product.

Props: This gift does not include props used for the photoshoot.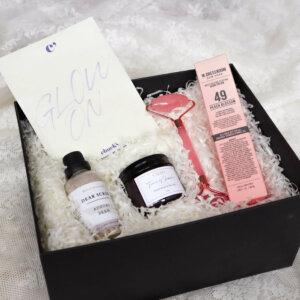 Ready to Ship, Beautifully Yours
Between work, family, and social obligations, it can be hard to make time for ourselves. This box wants to give yourself an excuse by indulging with delicious Famous Amous signature cookies, having a luminous shot rubber mask and soothing bath followed with a fragrant Neroli and Ylang Ylang candle. It is the best reason to turn on DO NOT DISTURB, trust us. What's inside: Moisturizing Perfumed Hand Cream by W.Dressroom (Peach Blossom) x 1 - W.DRESSROOM creates a fascinating and elegant fragrance based on the modern and trendy design seen on New York Street. Moist and soft finish for dry hands; using argan oil and shea butter as ingredients. Chuck's Glow On Brightening Peony Mask x1 - It a magical mix of 78% peony water and niacinamide which helps your skin radiate and shine bright like a diamond. Everyone knows that diamonds are a girl's best friend. Adzuki Bean Face Scrub by Dear Scrub x 1 - This Adzuki Beans face scrubs help cleanse and unplug pores by absorbing excess oils, drawing out impurities and promoting circulation. They are also great in dealing with large pores and blackheads. Suitable for all kinds of skin and ideal for skin with acne tendency. Mild exfoliation type, you can also mix it with different nourishing agents like milk, yogurt, aloe vera gel and even honey! Trace of Summer | Wood Sage & Sea Salt Soy Wax Candle by Caldo x 1 - The scent of the sea breeze and aromatic wood sage, which brings you closer to the depths of nature, freedom, summer fun and the beach! Caldo offers a hand-poured soy wax scented candle using an environmentally friendly substance, a clean, non-toxic soy candle. Rose Quartz Roller x1 - There is an old story saying that, thousands of years ago, the Empress of China used a roller made of rose quartz to maintain her youthful appearance and radiance. The semi-precious stone, considered a symbol of beauty, grace and longevity has long been revered in the East for its mystical powers. Keepsake Box & Handwritten Card x1 - All of the gift items are painstakingly arranged in our premium gift box. A refined satin ribbon will be daintily added as a finishing touch so your gift is ready to be gifted. A complimentary handwritten card will be enclosed with your gift. Size of box: 25cm x 20cm x 12.5cm
RM

169.00