Almond Chocolate Chip Cookies by The Skinny Bakers
Almond Chocolate Chip Cookies by The Skinny Bakers
Not anything sophisticated here, just simple cookies – but baked fresh! Almond Chocolate Chip Cookies are made with enriched flour, imported Chocolate Chips, 100% imported butter from New Zealand and aromatic vanilla extract. All premium ingredients baked fresh weekly. Nuts are sourced from California, United States.
In stock
Additional information
Weight
0.05 kg
Dimensions
7.5 × 7.5 × 7 cm
Delivery

1. Please allow 1 to 3 business days to process your order.
2. The gift will be put into a carton box to protect the outer of the gift box. If the box is loose in the carton box, packaging accessories such as foam will be included to secure the gift box. No pricing information will be included.
4. Seal the package and attach the airwaybill to dispatch. Please allow 2 to 6 business days on standard shipping In West Malaysia.

Display

Colour: Actual colours may vary due to every computer monitor has a different capability to display colours and that everyone sees these colours differently. Therefore, we cannot guarantee that the colour you see accurately portrays the true colour of the product.

Props: This gift does not include props used for the photoshoot.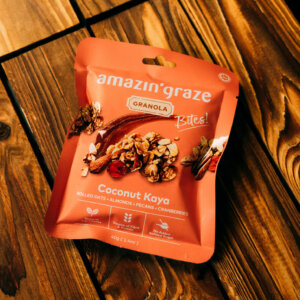 Quickview
The ultimate Southeast Asian snack (kuih kapit or love letters) reimagined. A wholesome blend of traditional rolled oats and chia seeds graciously coated in kaya jam and fresh pandan leaves, then topped with buttery pecans, earthy almonds, and juicy cranberries. This tasty granola is accented by the sweet aroma of pandan - Asia's favourite vanilla.
RM

10.00