Tea
Buy this product to earn
7
Points.
Amidst the bustle of everyday life, send her a gentle (and luxe) reminder to take a mug tea, a breath, a moment to herself.
What's inside:
Green Tea by Marks & Spencer x 1 – Crisp, light, and refreshing green tea. A great drink to accompany the Famous Amos cookies.
Chic Mugs x 1 – Inspired by British Royal style, this design with exquisite coloured glaze, gleaming gold trim brings elegance and beauty to your home. This classic design will complement traditional and contemporary tastes, which has made it a popular gift. Delight guests with these charming teacups with saucers, make your party or everyday teatime that much more special.
Original Chocolate Chip Cookies by Famous Amos x 1 – Famous Amos original chocolate chip cookies are baked into the classic crunchy cookies you crave using semi-sweet chocolate chips and flavourful ingredients from the most renowned places in the world to create that melt-in-your-mouth sensation adored by cookie lovers all over.
Tea Infuser x 1 – Perfect for making a refreshing cup of tea. It could filter residue, coffee particles, ingredients, chafing dish conveniently and prevent scattering suspended substance effectively.
Keepsake Box & Handwritten Card x 1 – All of the gift items are painstakingly arranged in our premium gift box. A refined satin ribbon will be daintily added as a finishing touch so your gift is ready to be gifted. A complimentary handwritten card will be enclosed with your gift.
Size of box: 25cm x 20cm x 12.5cm
SKU:

17068
Category: Ready to Ship
Tags: anniversary, best gift, birthday, creative, curated gift, flower tea, for bestie, for friend, for her, for sister, girlfriend, pamper, perfect gift, unique, wife, woman
Additional information
Weight
3 kg
Dimensions
25 × 20 × 12.5 cm
Delivery

1. Please allow 1 to 3 business days to process your order.
2. All the gifts and greeting will be put in the gift box. Each carefully curated and hand-wrapped box ships as a gift, with a handwritten note and no pricing information.
3. The gift box will be put into a carton box to protect the outer of the gift box. If the box is loose in the carton box, packaging accessories such as foam will be included to secure the gift box.
4. Seal the package and attach the airwaybill to dispatch. Please allow 2 to 6 business days on standard shipping In West Malaysia.

Display

Colour: Actual colours may vary due to every computer monitor has a different capability to display colours and that everyone sees these colours differently. Therefore, we cannot guarantee that the colour you see accurately portrays the true colour of the product.

Props: This gift does not include props used for the photoshoot.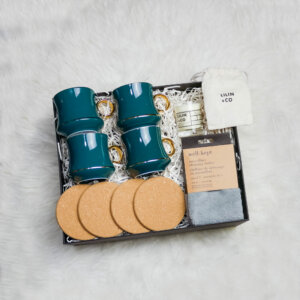 Ready to Ship
Moving into a new place is exciting. That is why a thoughtful housewarming gift is a great gesture; it can genuinely ease their transition and get the new homeowner thinking about their space all over again. This box is filled with elegant decorative items that make their home feel and look fantastic, always. What's inside: Cork Coaster x 4 - Simple cork coaster that match your kitchenware and it protects the tabletop surface and reduces noise from glasses and mugs. Chic Mugs x 4 - Inspired by British Royal style, this design with exquisite coloured glaze,gleaming gold trim brings elegance and beauty to your home. This classic design will complement traditional and contemporary tastes, which has made it a popular gift. Delight guests with these charming teacups with saucers, make your party or everyday teatime that much more special. Trace of Summer | Wood Sage & Sea Salt Soy Wax Candle by Caldo x 1 - The scent of the sea breeze and aromatic wood sage, which brings you closer to the depths of nature, freedom, summer fun and the beach! Caldo offers a hand-poured soy wax scented candle using an environmentally friendly substance, a clean, non-toxic soy candle. Kitchen Towel x 1 - This microfiber towel not only help to wipe away oil and dirtiness easily, but it is also nice to look at. Keepsake Box & Handwritten Card x 1 - All of the gift items are painstakingly arranged in our premium gift box. A refined satin ribbon will be daintily added as a finishing touch so your gift is ready to be gifted. A complimentary handwritten card will be enclosed with your gift. Size of box: 33cm x 27cm x 12cm
RM

299.00