Solarize
Buy this product to earn
12
Points.
An excellent gift set for those who love science, and into eco-friendly tech.
Let's see what's inside?
100000mah Solar Power Bank x 1 -This handy little device is perfect for those who are always on the go, as it features a massive 100000mah capacity that will keep your devices charged for hours.
What's more, the solar power bank also features a built-in solar panel that allows you to recharge the power bank using sunlight – perfect for when you're outdoors and don't have access to a power outlet. With this power bank, you'll never have to worry about your devices running out of juice!
Digital Thermal Flask with Thermometer x 1 -Smart thermal flask with digital LED display which made of high quality stainless steel material for long-lasting and durable use. Most importantly, it looks cool!
Solar Powered Bluetooth Speaker x 1 –In case you are a frequent traveller, and like to go camping, having a solar powered speaker in your bag is a must! Enjoy and sink into the music world.
Keepsake Box & Handwritten Card x 1 -All of the gift items are painstakingly arranged in our premium gift box. A refined satin ribbon will be daintily added as a finishing touch so your gift is ready to be gifted. A complimentary handwritten card will be enclosed with your gift.
Size of box: 33cm x 27cm x 12cm
Additional information
Weight
3 kg
Dimensions
33 × 27 × 12 cm
Delivery

1. Please allow 1 to 3 business days to process your order.
2. All the gifts and greeting will be put in the gift box. Each carefully curated and hand-wrapped box ships as a gift, with a handwritten note and no pricing information.
3. The gift box will be put into a carton box to protect the outer of the gift box. If the box is loose in the carton box, packaging accessories such as foam will be included to secure the gift box.
4. Seal the package and attach the airwaybill to dispatch. Please allow 2 to 6 business days on standard shipping In West Malaysia.

Display

Colour: Actual colours may vary due to every computer monitor has a different capability to display colours and that everyone sees these colours differently. Therefore, we cannot guarantee that the colour you see accurately portrays the true colour of the product.

Props: This gift does not include props used for the photoshoot.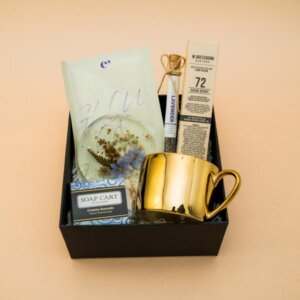 Ready to Ship, Beautifully Yours
"All women may not be beautiful, but every woman can look beautiful." by Amit Kelantri. From hydration to relaxation from top to toe; this box is going to bring out her beauty, real fast. What's inside: Gold Mug x 1 - This showpiece of unique craftsmanship of this gold coated porcelain mug will add style class and serve as a decoration on your table. Season 4 Moisturizing Perfumed Hand Cream by W.Dressroom (Sugar Berry) x 1 - This moisturizing hand cream, formulated with Madecassoside to soothe, ceramide to protect, while argan oil and shea butter delivers long-lasting hydration to skin. Moist and soft finish for dry hands. Chuck's Glow On Brightening Peony Mask x 1 - It is a magical mix of 78% peony water and niacinamide which helps your skin radiate and shine bright like a diamond - everyone knows that diamonds are a girl's best friend. Creamy Avocado by Soap Cart x 1 - Uses only puréed fresh avocado pears with fresh milk that provide a moisturizing, rich and creamy mousse. The Avocado oil in this soap contains vitamins, plant proteins, lecithin and fatty acids that are excellent and nourishing for dry and dehydrated skin. Best known for its healing, anti-bacterial and anti-wrinkle properties. They say Avocado is great on toast, but now we know it's even better to use as moisturizing soap as well! Lavender Flower Tea Tube x 1 - Lavender is one of the most beloved and often-used plants in the world. From aromatherapy to culinary, its name has become synonymous with a light shade of purple. Lavender tea is made from the dried lavender flower buds. Studies suggest it may help with calming the body and mind, help with anxiety, positively influence the mood, help with depression, act as a sedative and reduce pain. Handmade Acrylic Flower Coaster by Artorias x 1 - Add a touch of beauty and nature to your home or workspace with this botanical coaster sized at 10cm from ARTORIAS. Each one-of-a-kind art piece is meticulously handmade. All of the real botanicals are hand selected for each design making each piece a truly unique item to be cherished. Keepsake Box & Handwritten Card x 1 - All of the gift items are painstakingly arranged in our premium gift box. A refined satin ribbon will be daintily added as a finishing touch so your gift is ready to be gifted. A complimentary handwritten card will be enclosed with your gift. Size of box: 18cm x 18cm x 9.5cm
RM

189.00