Relax & Heal
Buy this product to earn
9
Points.
Life can leave us like there is no time, but it is okay to have an 'off' switch and have a little extra TLC (tender, love, care) to our mind, body, and soul. From hydration to relaxation from top to toe, this box is going to give you the calmness that you need very fast.
What's inside:
Himalayan Salt Foot Soak by Dear Scrub x 1 – Say goodbye to your long day tired feet! Relax and revitalize tired and aching feet with the natural healing powers of Himalayan Pink Salt and Sea Salt. Good to detox and draws out bacteria from your feet, it also helps in reducing fatigue, stress, sores, reduce foot fungus and sores, ease tense muscles, soften the skins and helps in relaxation. Simply soak your feet for about 15 to 20 minutes and wait for the calming effect.
100% Pure & Organic Melaleuca Honey by Giant B x 1 – One of the most established honey manufacturing brands in Malaysia, Giant B had invested a tremendous effort in the beekeeping industry while continuing to improve the quality of its products. Giant B ensures that their company provides 100% pure, genuine and organic honey.
Eucalyptus Radiata Essential Oil by Soap Cart x 1 – The smell of Eucalyptus Radiata Essential Oil soothes and awaken the mind, making it one of the best oils for enhancing your concentration. Combine that with its clean, fresh and soothing scent; it makes an excellent air refresher.
Ceramic Essential Oil Burner x 1 – This stylish, beautiful, and elegant porcelain fragrance oil burner is a perfect home decor. With just a few drops of essential oil, it helps in relaxation and bringing a romantic atmosphere into your room.
Fresh Succulent Plant x 1 – The famous Roman philosopher Marcus Tullius Cicero once said, "If you have a garden and a library, you have everything you need." That's because while a library can feed your mind, nature can feed your soul. You can bring a part of nature into your home by introducing easy-to-raise succulent houseplants.
Handmade Acrylic Flower Coaster by Artorias x 1 – Add a touch of beauty and nature to your home or workspace with this botanical coaster sized at 10cm from ARTORIAS. Each one-of-a-kind art piece is meticulously handmade. All of the real botanicals are hand selected for each design making each piece a truly unique item to be cherished.
Keepsake Box & Handwritten Card x 1 – All of the gift items are painstakingly arranged in our premium gift box. A refined satin ribbon will be daintily added as a finishing touch so your gift is ready to be gifted. A complimentary handwritten card will be enclosed with your gift.
Size of box: 25cm x 20cm x 12.5cm
SKU:

518
Categories: Ready to Ship, Relax & Recharge
Tags: anniversary, best gift, birthday, creative, curated gift, for bestie, for friend, for her, for sister, gift box, girlfriend, perfect gift, relax, unique, woman
Additional information
Weight
3 kg
Dimensions
25 × 20 × 12.5 cm
Delivery

1. Please allow 1 to 3 business days to process your order.
2. All the gifts and greeting will be put in the gift box. Each carefully curated and hand-wrapped box ships as a gift, with a handwritten note and no pricing information.
3. The gift box will be put into a carton box to protect the outer of the gift box. If the box is loose in the carton box, packaging accessories such as foam will be included to secure the gift box.
4. Seal the package and attach the airwaybill to dispatch. Please allow 2 to 6 business days on standard shipping In West Malaysia.

Display

Colour: Actual colours may vary due to every computer monitor has a different capability to display colours and that everyone sees these colours differently. Therefore, we cannot guarantee that the colour you see accurately portrays the true colour of the product.

Props: This gift does not include props used for the photoshoot.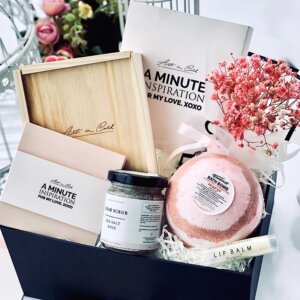 Ready to Ship, Beautifully Yours
You always gain by giving love', by Reese Witherspoon. Sending love to someone you love anytime and let them know you think of her. What's inside: A Minute Inspiration - For My Love XOXO by Art In Card x 1 - This collection is dedicated to the art of establishing concrete connections and relationships, ones that last long and wax strong. Give your loved one a card a day. Surprise him or her with real sweet and romantic message. Mini Champagne Bottle with Chocolate by Ferrero Rocher x 1 - Who can deny Ferrero Rocher chocolate? From the toasting of the hazelnuts to the making of the chocolate, Ferrero owns unequalled expertise in the creation of the inimitable Ferrero Rocher recipe. Anyway, just look at these chocolates in the mini champagne bottles makes people happy! Love is in the Bear x1 - Hidden Bear Bath Bomb by Wunderbath x 1 - Turn someone bath time beary beary romantic? This is not your average bath bomb, as it swirls, it will reveal a hidden BEAR RING (adjustable size). Let the pink and red color swirl on your tub like a heartbeat and the Lavender Rose scent turn you into a hopeless romantic. Preserved Flower Mini Bouquet x 1 - What is better than having a long lasting preserved flowers to show your love to your love one? It's means 'our love never die', cliche? but it works:) Sea Salt Rose Natural Body Scrub by Dear Scrub x 1 - Natural handmade body scrub, without additive of paraben, SLS, preservative, artificial colouring. Contains anti-oxidants that fight off free radicals and skin irritant & Refreshing scent. Great as an overall body scrub, especially on dry and calloused skin such as elbow and heels. Suitable for all skin types. Grapefruit Lip Balm by Mousse Handmade x 1 - This Grapefruit Lip Balm moisturizes your lips making them feel soft & sensationally smooth. With the uplifting, sweet & slightly tangy scent of natural grapefruit essential oil, this lip balm glides on like silk, leaving a protective, lustrous sheen. Keepsake Box & Handwritten Card x 1 - All of the gift items are painstakingly arranged in our premium gift box. A refined satin ribbon will be daintily added as a finishing touch so your gift is ready to be gifted. A complimentary handwritten card will be enclosed with your gift. Size of box: 25cm x 20cm x 12.5cm
RM

279.00