Party Box
Buy this product to earn
10
Points.
Never too old to party. This perfectly curated gift has almost everything to make theirs count: from the Moet, all-time favourite playing cards, delicious treats to enjoy, the only thing they need to do is just hit some music and get the party started.
What's inside:
Mini Moet Champagne 20cl x 1 – Moet and Chandon Imperial Brut Champagne is an iconic blend that fills your palate with the flavours of pears, apples, peaches as well as citrus fruits. Pairs perfectly with sushi, white fish, white meats, scallops, oysters and white fruits. This share pack is perfect for sharing with friends and family.
Playing Card by Exploding Kitten x 1 – "It's like UNO, except there are goats, magical enchiladas and kittens that can kill you."- CNN. This game is insane and selling hot in the world. Try this highly-strategic, kitty-powered version of Russian Roulette.
Gourmet Popcorn by Popcorn Time x 1 – Popcorn Time features all-natural Gourmet Popcorn blanketed in caramel crunch. Unlike Popcorn you eat at carnival, this Gourmet Popcorn will bring you to the next level. They fit right in on any sophisticated cocktail party.
Go Nuts' Wholesome Mix Nuts by Amazin'Graze x 1 – A delicious blend of sweet almonds, creamy cashews, and earthy walnuts. Enjoy the finest nuts roasted for a big flavour. Packed with protein and high in fibre, this trail mix will keep you full and focused throughout the day.
Keepsake Box & Handwritten Card x 1 – All of the gift items are painstakingly arranged in our premium gift box. A refined satin ribbon will be daintily added as a finishing touch so your gift is ready to be gifted. A complimentary handwritten card will be enclosed with your gift.
Size of box: 33cm x 27cm x 12cm
SKU:

525
Category: Ready to Ship
Tags: alcohol, anniversary, best gift, birthday, creative, curated gift, for bestie, for friend, for her, for sister, gift box, housewarming, party, perfect gift, unique
Additional information
Weight
5 kg
Dimensions
33 × 27 × 12 cm
Delivery

1. Please allow 1 to 3 business days to process your order.
2. All the gifts and greeting will be put in the gift box. Each carefully curated and hand-wrapped box ships as a gift, with a handwritten note and no pricing information.
3. The gift box will be put into a carton box to protect the outer of the gift box. If the box is loose in the carton box, packaging accessories such as foam will be included to secure the gift box.
4. Seal the package and attach the airwaybill to dispatch. Please allow 2 to 6 business days on standard shipping In West Malaysia.

Display

Colour: Actual colours may vary due to every computer monitor has a different capability to display colours and that everyone sees these colours differently. Therefore, we cannot guarantee that the colour you see accurately portrays the true colour of the product.

Props: This gift does not include props used for the photoshoot.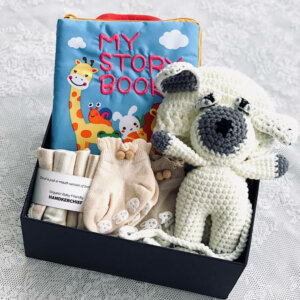 Ready to Ship
This adorable box is a perfect present for a baby shower or a gift to welcome the baby once he arrives. Just grab your camera; put the beanie on him with the little knitting toys beside him, you might capture a professional yet authentic baby photo just like that. What's inside: New Born Knitting Beanie and Bear x 1 - Perfect for 0-3 months old toddler. Could be used as toddler photography props. The knitting bear is a great companion to toddler when sleeping. 3D Baby Early Learning Educational Fabric Book x 1 - Textured fabrics and bright colors help to develop children's sensory awareness. Special cloth design, durable, not easy to be torn. Children will love the colourful photographs and soft pages. Entertain children while giving them a head start on learning. The best thing is it can be washed. Organic Baby Friendly Burp Towel x 1 - Ultra soft & breathable burp cloth specially made for baby's liking. The baby burp cloths set is made of 100% organic cotton materials, comfortable for baby's sensitive skin. New Born Baby Boy Stocking x 1 - These cute little stocking are soft and comfortable to wear. They are breathable and great for all-time-summer country like Malaysia. Keepsake Box & Handwritten Card x1 - All of the gift items are painstakingly arranged in our premium gift box. A refined satin ribbon will be daintily added as a finishing touch so your gift is ready to be gifted. A complimentary handwritten card will be enclosed with your gift. Size of box: 25cm x 20cm x 12.5cm
RM

219.00