New Baby Boy Or Girl
Buy this product to earn
10
Points.
This adorable box is a perfect present for a baby shower or a gift to welcome the baby once he arrives. Just grab your camera; put the beanie on him with the little knitting toys beside him, you might capture a professional yet authentic baby photo just like that.
What's inside:
New Born Knitting Beanie and Bear x 1 – Perfect for 0-3 months old toddler. Could be used as toddler photography props. The knitting bear is a great companion to toddler when sleeping.
3D Baby Early Learning Educational Fabric Book x 1 – Textured fabrics and bright colors help to develop children's sensory awareness. Special cloth design, durable, not easy to be torn. Children will love the colourful photographs and soft pages. Entertain children while giving them a head start on learning. The best thing is it can be washed.
Organic Baby Friendly Burp Towel x 1 – Ultra soft & breathable burp cloth specially made for baby's liking. The baby burp cloths set is made of 100% organic cotton materials, comfortable for baby's sensitive skin.
New Born Baby Boy Stocking x 1 – These cute little stocking are soft and comfortable to wear. They are breathable and great for all-time-summer country like Malaysia.
Keepsake Box & Handwritten Card x1 – All of the gift items are painstakingly arranged in our premium gift box. A refined satin ribbon will be daintily added as a finishing touch so your gift is ready to be gifted. A complimentary handwritten card will be enclosed with your gift.
Size of box: 25cm x 20cm x 12.5cm
SKU:

543
Category: Ready to Ship
Tags: 100 days, best gift, birthday, boy, celebration, creative, curated gift, cute baby, full moon, gift box, gift set, new baby, newborn, perfect gift, unique
Additional information
Weight
3 kg
Dimensions
25 × 20 × 12.5 cm
Delivery

1. Please allow 1 to 3 business days to process your order.
2. All the gifts and greeting will be put in the gift box. Each carefully curated and hand-wrapped box ships as a gift, with a handwritten note and no pricing information.
3. The gift box will be put into a carton box to protect the outer of the gift box. If the box is loose in the carton box, packaging accessories such as foam will be included to secure the gift box.
4. Seal the package and attach the airwaybill to dispatch. Please allow 2 to 6 business days on standard shipping In West Malaysia.

Display

Colour: Actual colours may vary due to every computer monitor has a different capability to display colours and that everyone sees these colours differently. Therefore, we cannot guarantee that the colour you see accurately portrays the true colour of the product.

Props: This gift does not include props used for the photoshoot.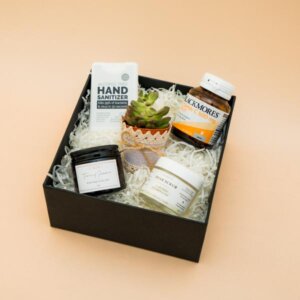 Ready to Ship
When friends or families are sick, it can be hard to know what to say. Sending a caring gift is a simple way to bring some light into their day. Just show them you are always there no matter what. What's inside: 500mg Vitamin C by Blackmores x1 - Blackmores Buffered C is a slow release vitamin C supplement which ensures a prolonged delivery of vitamin C to your body over an 8 hour period. It's important to stay strong, always. Trace of Summer | Wood Sage & Sea Salt Soy Wax Candle by Caldo x1 - The scent of sea breeze and a slight aromatic wood sage that brings you closer to nature's depth, freedom, summer pleasure and an escape into beach! Caldo offers hand-poured handmade soy wax scented candle using planet-friendly substances, nontoxic and clean-burning soy candle. Aloe Vera Vitamin E Gel by Dear Scrub x1 - This Aloe Vera gel is made using 100% pure aloe vera enhanced with Vitamin E. Alcohol free, silicon free, with no added fragrance and fillers because that is all you need! The antioxidants present in this combo create a double attack agent to reduce inflammation, fight against dark spots on the skin, help reduce all aging signs, prevent scarring, provide a fresh glow and help reduce pollution-related free radical damage. It is great for soothing and hydrating skin and can even be used on your hair. Premium Alcohol Free Hand Sanitizer x1 - This hand sanitizer is using newest, 100% all-natural (safe for kids), specialty low-salt formulation with a boost of powerful electrolyzed HOCl. This non-drying hand spray can be used frequently throughout the day and is ideal for use after hand washing to soothe your skin's natural defenses and promote soft skin! Fresh Succulent Plant x1 - The famous Roman philosopher Marcus Tullius Cicero once said, "If you have a garden and a library, you have everything you need." That's because while a library can feed your mind, nature can feed your soul. You can bring a part of nature into your home by introducing easy-to-raise succulent houseplants. Keepsake Box & Handwritten Card x1 - All of the gift items are painstakingly arranged in our premium gift box.A refined satin ribbon will be daintily added as a finishing touch so your gift is ready to be gifted. A complimentary handwritten card will be enclosed with your gift. Size of box: 18cm x 18cm x 9.5cm
RM

179.00