Little Darling
Buy this product to earn
9
Points.
Looking for a gift for little one? This gender friendly gift is perfect to introduce the little one to this world. People say genius is make not born. No matter which statement is correct, instil the hobby of reading or playing the little instrument definitely spark their right brain.
What's inside:
Wooden Xylophone by The Craft Store x 1 – Exposing children to music during early development helps them learn the sounds and meanings of words. This 8 bar rainbow colour wooden made Xylophone has lovely melodic sounds and are great for honing children's creativity, dexterity, motor skills, sensory skills, hand-eye coordination, and more. And the best thing about this toy is it never require battery to operate, it can accompany a kid throughout his/her growing journey.
New Baby- Congratulations by Little Tiger Press x 1 – Nothing is more exciting and wonderful than the arrival of a new baby. This little gift book celebrates the unique, precious moments of a new arrival, and welcomes a very special newborn to the world! A perfect gift to give to new parents when visiting a newborn baby. With beautiful illustrations by Jill Latter and pretty polka-dot fabric on the cover, this book is one of six new gift books from Little Tiger Gift.
Safari Animal Muslin Swaddle by The Kraft Store x 1 – This would snug baby comfortable like the cozy feeling in the womb. It is made from cotton and it is soft yet durable. The safari printed design is adorable yet gender friendly.
Keepsake Box & Handwritten Card x 1 – All of the gift items are painstakingly arranged in our premium gift box. A refined satin ribbon will be daintily added as a finishing touch so your gift is ready to be gifted. A complimentary handwritten card will be enclosed with your gift.
Size of box: 25cm x 20cm x 12.5cm
SKU:

18012
Category: Ready to Ship
Tags: 100 days, best gift, birthday, celebration, creative, curated gift, cute baby, full moon, gift box, girl, new baby, newborn, perfect gift, unique
Additional information
Weight
3 kg
Dimensions
25 × 20 × 12.5 cm
Delivery

1. Please allow 1 to 3 business days to process your order.
2. All the gifts and greeting will be put in the gift box. Each carefully curated and hand-wrapped box ships as a gift, with a handwritten note and no pricing information.
3. The gift box will be put into a carton box to protect the outer of the gift box. If the box is loose in the carton box, packaging accessories such as foam will be included to secure the gift box.
4. Seal the package and attach the airwaybill to dispatch. Please allow 2 to 6 business days on standard shipping In West Malaysia.

Display

Colour: Actual colours may vary due to every computer monitor has a different capability to display colours and that everyone sees these colours differently. Therefore, we cannot guarantee that the colour you see accurately portrays the true colour of the product.

Props: This gift does not include props used for the photoshoot.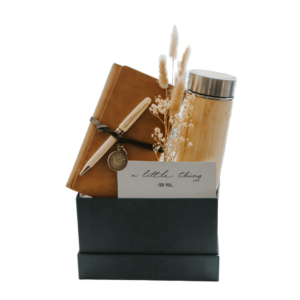 Ready to Ship
'Thank You' are magical words because it expresses one of our most basic emotions: gratitude. Our THANKS box is sleek, simple, and sophisticated, much like the person that it is gifted to and also showing appreciation to the world by having an eco-friendly material gifts in the box. A beautifully curated gift where most of the work is done for you? You're welcome. What's inside: Leather Journal x 1 - This journal mark the new concept of design - rustic with a touch of antique and rugged edge finish. The leather is ultra soft to touch! Perfect for journaling and jot down your inspiration every day. Elegant Eco Friendly Bamboo Pen x 1 - Made from bamboo - one of the most durable and renewable resources on the planet. Enjoy the smooth writing ballpoint pen with twist action mechanism. Double Walled Bamboo Thermal Flask x 1 - Have a tea with this double walled eco friendly bamboo thermal flask. Trust me, you will like it! Keepsake Box & Handwritten Card x 1 - All of the gift items are painstakingly arranged in our premium gift box. A refined satin ribbon will be daintily added as a finishing touch so your gift is ready to be gifted. A complimentary handwritten card will be enclosed with your gift. Size of box: 25cm x 20cm x 12.5cm
RM

189.00
Rated 5.00 out of 5