Hustle (Office)
Buy this product to earn
11
Points.
For someone who needs to keep the hustle alive, this gift is specially curated from a matte black digital Thermal Flask to minimalist HUSTLE canvas. These work essentials could refresh the whole desk.
What's inside:
Special Edition Hustle Inspirational Canvas (20cm x 25cm) by Art In Card x 1 – Good things happen for those who stay humble and hustle hard! With a cool and beautiful typography, this canvas reminds you to hustle harder to reach your dream while being humble and thoughtful.
Elegant Eco Friendly Bamboo Pen x 1 – Made from bamboo – one of the most durable and renewable resources on the planet. Enjoy the smooth writing ballpoint pen with twist action mechanism.
Leather Journal x 1 – This journal marks the new concept of design – rustic with a touch of antique and rugged edge finish. The leather is ultra soft to touch! Perfect for journaling and jot down your inspiration every day.
Fresh Succulent Plant x 1 – The famous Roman philosopher Marcus Tullius Cicero once said, "If you have a garden and a library, you have everything you need." That's because while a library can feed your mind, nature can feed your soul. You can bring a part of nature into your home by introducing easy-to-raise succulent houseplants.
Digital Thermal Flask with Thermometer x 1 – This is a smart thermal flask with digital LED display, which made of high quality stainless steel material for long-lasting and durable use. Most importantly, it looks cool!
Keepsake Box & Handwritten Card x 1 – All of the gift items are painstakingly arranged in our premium gift box. A refined satin ribbon will be daintily added as a finishing touch so your gift is ready to be gifted. A complimentary handwritten card will be enclosed with your gift.
Size of box: 33cm x 27cm x 12cm
Additional information
Weight
5 kg
Dimensions
33 × 27 × 12 cm
Delivery

1. Please allow 1 to 3 business days to process your order.
2. All the gifts and greeting will be put in the gift box. Each carefully curated and hand-wrapped box ships as a gift, with a handwritten note and no pricing information.
3. The gift box will be put into a carton box to protect the outer of the gift box. If the box is loose in the carton box, packaging accessories such as foam will be included to secure the gift box.
4. Seal the package and attach the airwaybill to dispatch. Please allow 2 to 6 business days on standard shipping In West Malaysia.

Display

Colour: Actual colours may vary due to every computer monitor has a different capability to display colours and that everyone sees these colours differently. Therefore, we cannot guarantee that the colour you see accurately portrays the true colour of the product.

Props: This gift does not include props used for the photoshoot.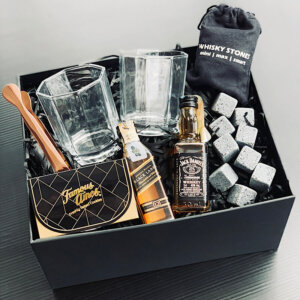 Ready to Ship
Whiskey, as a concept, deserves more than the ordinary. And in that "spirit," we've pulled out all the stops with this consciously curated gift. He'll be excited to play bartender courtesy of a whiskey wedge glass (goodbye, watered down), stone ice cube to keep whiskey cold while not watering, a zester for the perfect finish and a few treats to pair. What's inside: Stone Ice Cube x 1 - Do you like ice cold drink but hate it when the ice start to melt in your drinks and make your drink tasteless? Just put these into your fridge, wait for a few hours and pop into your drinks. Now, you got your ice cold drink. Black Label 12 Years Old Whiskey (5cl) by Johnie Walker x 1 - Johnnie Walker Black Label is a true icon, recognised as the benchmark for all other deluxe blends. Created using only whiskies aged for a minimum of 12 years from the four corners of Scotland; Johnnie Walker Black Label 12 Years Old 5cl miniature has an unmistakably smooth, deep character. Old No.7 Black Label (5cl) by Jack Daniel x 1 - This JD's Black Label offers a quick, sweet finish. It offers nice oaky notes, a hint of spices and a touch of cedar mingled with a warm caramel finish that gives way to hints of white pepper and walnuts.The licorice itself lends a nice background taste and is not overwhelming to the point where you cannot taste the other flavors. When you taste the whiskey, you have to take your time to savor it, sit down and think about the flavours appearing on the palate. You will indeed be surprised at just how much complexity and depth there is hidden under the blanket of whisky vanilla at the front of the palate. Original Chocolate Chip Cookies by Famous Amos x 1 – Famous Amos original chocolate chip cookies are baked into the classic crunchy cookies you crave using semi-sweet chocolate chips and flavourful ingredients from the most renowned places in the world to create that melt-in-your-mouth sensation adored by cookie lovers all over. Ice Tong x 1 - An elegant rose gold tweezer specially to grip ice. Whiskey Glasses x 2 - Nothing make a whiskey taste even better with the original premium whiskey glass. They are just meant to be with each other. Keepsake Box & Handwritten Card x 1 - All of the gift items are painstakingly arranged in our premium gift box. A refined satin ribbon will be daintily added as a finishing touch so your gift is ready to be gifted. A complimentary handwritten card will be enclosed with your gift. Size of box: 25cm x 20cm x 12.5cm
RM

239.00