Honey Stick
Send guests home with a novel and convenient way to enjoy their next honey fix. Lightweight and small, these honey sticks are a tasty treat to take on a hike or for a cup of tea on the road.
Special price start from 20 units and above. We'll even personalise your door gift label for you with a MOQ of 20 units. Just let us know what you want to personalise in the form below. Don't worry! We will send a mockup for you for approval before bulk print.
Size: 17cm x 1cm x 0.5cm
Note:
With Personalisation Option – Two complimentary rounds of revisions are included to perfect the proofs. Nothing will be printed without your approval.
Orders placed less than two weeks before the delivery date are not eligible for artwork customisation.
***A minimum order of 20 units and above
In stock
Additional information
Weight
0.015 kg
Dimensions
17 × 1 × 0.5 cm
Delivery

With Personalisation
1. Please allow 1 to 3 business days for our designer to prepare the artwork for you. Once you approve the artwork, we will take 3 to 10 business days to prepare your items.
2. Each item will be carefully curated and no pricing information attached.
3. All the items will be put into a carton box. Packaging accessories such as foam and bubble wrap will be included to secure the items.
4. Seal the package and attach the airwaybill to dispatch. Please allow 2 to 6 business days on standard shipping In West Malaysia.

Without Personalisation
1. We will take 3 to 7 business days to prepare your items.
2. Each item will be carefully curated and no pricing information attached.
3. All the items will be put into a carton box. Packaging accessories such as foam and bubble wrap will be included to secure the items.
4. Seal the package and attach the airwaybill to dispatch. Please allow 2 to 6 business days on standard shipping In West Malaysia.

Display

Colour: Actual colours may vary due to every computer monitor has a different capability to display colours and that everyone sees these colours differently. Therefore, we cannot guarantee that the colour you see accurately portrays the true colour of the product.

Props: This gift does not include props used for the photoshoot.

Department

Food and Treats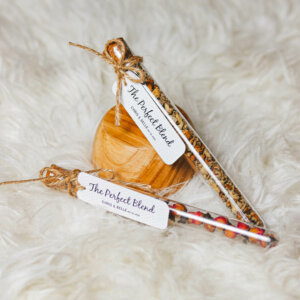 Door Gift
Everyone loves a good cup of tea! We adore these little test tubes filled with natural lavender tea leaves. Show your guests your love for tea in this loose leaf tea door gift placed in cute test tubes. Special price start from 20 units and above. We even personalise your door gift label for you with a MOQ of 20 units. Just let us know what you want to personalise in the form below. Don't worry! We will send a mockup for you for approval before bulk print. Size: 1.8cm (d) x 15.5cm (h) Note: With Personalisation Option - Two complimentary rounds of revisions are included to perfect the proofs. Nothing will be printed without your approval. Orders placed less than two weeks before the delivery date are not eligible for artwork customisation. Only applicable for Lavender. Rose and Chamomile incurs additional charges. ***A minimum order of 20 units and above
RM

5.30 –

RM

6.30