Happy Hour
Buy this product to earn
13
Points.
It is the perfect gift for the gin lover in your life. With inspiration from the new favourite cocktail book, tonic and a muddler, an Insta-worthy cup, and some delicious cookies to savour, you'll make their hours just a bit happier.
What's inside:
Bartender Kit – Cocktail Mixing Set x 1 – The best cocktail shaker kit for your choice. It contains enough tools you need to create amazing cocktails. With this set you can mix drinks like a professional. Including cocktail shaker, stainless steel straw, jigger, muddler, ice tongs, mixing spoon and 2 pourers.
Drink: A Tippler's Miscellany by Jane Peyton x 1 – As Dr Johnson memorably wrote: 'Alcohol is life's second greatest pleasure'. Humans were seeking out alcohol from the moment they first walked. This book contains everything you have ever wanted to know about drink, from how to make absinthe to the cultural history of zythos (beer). Packed with fascinating miscellany and curious facts to entertain your friends at the pub, this book is an essential compendium of knowledge about booze. Bottoms up!
Miniature Gin (5cl) by HENDRICK'S x 1 – Hendrick's is the marriage of two different spirits from two rare and unusual stills: the Bennet still and the Carter-Head still. By combining the two, an extraordinarily smooth gin that has the required character and balance of subtle flavours can be created. No other gin tastes like Hendrick's because no other gin is made like Hendrick's. The gin's are infused with the remarkable Bulgarian Rosa Damascena and specially selected cucumbers from the finest producers.
Classic Connoisseurs Tonic Water by Fentimans x 1 – This versatile tonic has been specially created with a delicate infusion of natural botanicals and quinine for a clean and balanced taste. The delicate flavour profile enhances and lifies the beautiful botanicals of premium spirits, letting the spirit be the hero.
Keepsake Box & Handwritten Card x 1 – All of the gift items are painstakingly arranged in our premium gift box. A refined satin ribbon will be daintily added as a finishing touch so your gift is ready to be gifted. A complimentary handwritten card will be enclosed with your gift.
Size of box: 33cm x 27cm x 12cm
SKU:

526
Category: Ready to Ship
Tags: alcohol, anniversary, best gift, birthday, creative, curated gift, for bestie, for brother, for friend, for sister, gift box, housewarming, party, perfect gift, unique
Additional information
Weight
5 kg
Dimensions
33 × 27 × 12 cm
Delivery

1. Please allow 1 to 3 business days to process your order.
2. All the gifts and greeting will be put in the gift box. Each carefully curated and hand-wrapped box ships as a gift, with a handwritten note and no pricing information.
3. The gift box will be put into a carton box to protect the outer of the gift box. If the box is loose in the carton box, packaging accessories such as foam will be included to secure the gift box.
4. Seal the package and attach the airwaybill to dispatch. Please allow 2 to 6 business days on standard shipping In West Malaysia.

Display

Colour: Actual colours may vary due to every computer monitor has a different capability to display colours and that everyone sees these colours differently. Therefore, we cannot guarantee that the colour you see accurately portrays the true colour of the product.

Props: This gift does not include props used for the photoshoot.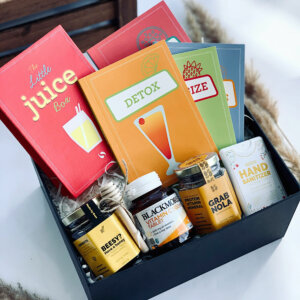 Ready to Ship
Nothing matters most than health, especially after this global pandemic. We may not be around someone we care, but sending a little gift lets them know we are thinking of them and wish them to be healthy. What's inside: The Little Juice Box by Spruce x 1 - Feeling lethargic, listless, or a bit under the weather? This collection of four juice recipe books might be just the answer you've been looking for. Whether you're looking to clear up a cold, or simply give your immune system a bit of a boost, you're sure to find a juice that can help you be on your way in this collection of 80 juice recipes. Brought together in a beautiful pink slipcase; these books are perfect as a gift, or simply as a little pick-me-up treat for yourself! The four books in the collection are: Energize: Juices to Invigorate - Perfect for when you're feeling lethargic, irritable or lacking enthusiasm. Activate the senses and stimulate your body through the natural power of juices and smoothies. Health Remedies: Juices to Heal and Revitalise - Fresh juices can alleviate the symptoms of many common ailments from Sinusitis to Anaemia. Restore your body to good health through the power of juice. Immune Boosters: Juices to Protect and Heal - Constant colds, feeling listless or just under the weather? Raise your energy levels and help your body fight diseases through the natural potency of juices. Detox: Juices to Cleanse and Rejuvenate - Feeling bloated, listless or lethargic? Revitalize and cleanse your body the natural way with this handy collection of juices. 500mg Vitamin C by Blackmores x 1 - Blackmores Buffered C is a slow-release vitamin C supplement which ensures a prolonged delivery of vitamin C to your body over an 8-hour period. It's important to stay strong, always. Salted Gula Melaka Granola by Amazin'Graze x 1 - A burst of Asian delight. Inspired by ingredients in grandma's larder, our recipe of traditional rolled oats, almonds, creamy cashews, golden flax seeds and sweet coconut baked to perfection with homemade Gula Melaka sauce. 100% Pure & Organic Melaleuca Honey by Giant B x 1 - Melaleuca Honey is 100% natural honey that collected by bees from the nectar of the Melaleuca flowers. Premium Alcohol Free Hand Sanitizer x 1 - This hand sanitizer is using newest, 100% all-natural (safe for kids), specialty low-salt formulation with a boost of powerful electrolyzed HOCl. This non-drying hand spray can be used frequently throughout the day and is ideal for use after hand washing to soothe your skin's natural defenses and promote soft skin! Keepsake Box & Handwritten Card x 1 - All of the gift items are painstakingly arranged in our premium gift box. A refined satin ribbon will be daintily added as a finishing touch so your gift is ready to be gifted. A complimentary handwritten card will be enclosed with your gift Size of box: 25cm x 20cm x 12.5cm
RM

199.00