Be Healthy
Buy this product to earn
9
Points.
Nothing matters most than health, especially after this global pandemic. We may not be around someone we care, but sending a little gift lets them know we are thinking of them and wish them to be healthy.
What's inside:
The Little Juice Box by Spruce x 1 – Feeling lethargic, listless, or a bit under the weather? This collection of four juice recipe books might be just the answer you've been looking for. Whether you're looking to clear up a cold, or simply give your immune system a bit of a boost, you're sure to find a juice that can help you be on your way in this collection of 80 juice recipes. Brought together in a beautiful pink slipcase; these books are perfect as a gift, or simply as a little pick-me-up treat for yourself!
The four books in the collection are:
Energize: Juices to Invigorate – Perfect for when you're feeling lethargic, irritable or lacking enthusiasm. Activate the senses and stimulate your body through the natural power of juices and smoothies.
Health Remedies: Juices to Heal and Revitalise – Fresh juices can alleviate the symptoms of many common ailments from Sinusitis to Anaemia. Restore your body to good health through the power of juice.
Immune Boosters: Juices to Protect and Heal – Constant colds, feeling listless or just under the weather? Raise your energy levels and help your body fight diseases through the natural potency of juices.
Detox: Juices to Cleanse and Rejuvenate – Feeling bloated, listless or lethargic? Revitalize and cleanse your body the natural way with this handy collection of juices.
500mg Vitamin C by Blackmores x 1 – Blackmores Buffered C is a slow-release vitamin C supplement which ensures a prolonged delivery of vitamin C to your body over an 8-hour period. It's important to stay strong, always.
Salted Gula Melaka Granola by Amazin'Graze x 1 – A burst of Asian delight. Inspired by ingredients in grandma's larder, our recipe of traditional rolled oats, almonds, creamy cashews, golden flax seeds and sweet coconut baked to perfection with homemade Gula Melaka sauce.
100% Pure & Organic Melaleuca Honey by Giant B x 1 – Melaleuca Honey is 100% natural honey that collected by bees from the nectar of the Melaleuca flowers.
Premium Alcohol Free Hand Sanitizer x 1 – This hand sanitizer is using newest, 100% all-natural (safe for kids), specialty low-salt formulation with a boost of powerful electrolyzed HOCl. This non-drying hand spray can be used frequently throughout the day and is ideal for use after hand washing to soothe your skin's natural defenses and promote soft skin!
Keepsake Box & Handwritten Card x 1 – All of the gift items are painstakingly arranged in our premium gift box. A refined satin ribbon will be daintily added as a finishing touch so your gift is ready to be gifted. A complimentary handwritten card will be enclosed with your gift
Size of box: 25cm x 20cm x 12.5cm
SKU:

16640
Category: Ready to Ship
Tags: anniversary, best gift, birthday, Covid-19, creative, curated gift, for family, for friend, gift box, heartwarming, love, MCO, perfect gift, self care, stay safe, stay well, take care, unique
Additional information
Weight
3 kg
Dimensions
25 × 20 × 12.5 cm
Delivery

1. Please allow 1 to 3 business days to process your order.
2. All the gifts and greeting will be put in the gift box. Each carefully curated and hand-wrapped box ships as a gift, with a handwritten note and no pricing information.
3. The gift box will be put into a carton box to protect the outer of the gift box. If the box is loose in the carton box, packaging accessories such as foam will be included to secure the gift box.
4. Seal the package and attach the airwaybill to dispatch. Please allow 2 to 6 business days on standard shipping In West Malaysia.

Display

Colour: Actual colours may vary due to every computer monitor has a different capability to display colours and that everyone sees these colours differently. Therefore, we cannot guarantee that the colour you see accurately portrays the true colour of the product.

Props: This gift does not include props used for the photoshoot.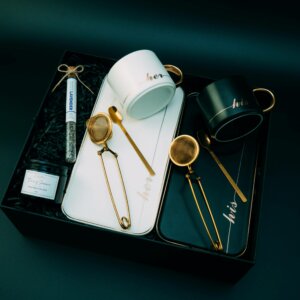 Ready to Ship
This is what newlywed dreams are made of - slow mornings in bed with tea and a candle, and warm evenings spent cooking at home. Wish those lovebirds a happily ever after with everything they will cherish now and forever. What's inside: Trace of Summer | Wood Sage & Sea Salt Soy Wax Candle by Caldo x 1 - The scent of the sea breeze and aromatic wood sage, which brings you closer to the depths of nature, freedom, summer fun and the beach! Caldo offers a hand-poured soy wax scented candle using an environmentally friendly substance, a clean, non-toxic soy candle. Ceramic Couple Mugs Set (Tray Mug Spoon) x 1 - Inspired by British Royal style, this design with exquisite coloured glaze, gleaming gold trim brings elegance and beauty to your home. This classic design will complement traditional and contemporary tastes, which has made it a popular gift. Chill and enjoy an afternoon tea with this ceramic couple mug with your other half. Lavender Flower Tea Tube x 1 - Lavender is one of the most beloved and often-used plants in the world. From aromatherapy to culinary; its name has become synonymous with a light shade of purple. Lavender tea is made from the dried lavender flower buds. Studies suggest it may help with calming the body and mind, help with anxiety, positively influence the mood, help with depression, act as a sedative and reduce pain. Tea Infuser x 2 - Perfect for making a refreshing cup of tea. It could filter residue, coffee particles, ingredient, chafing dish conveniently and prevent scattering suspended substance effectively. Keepsake Box & Handwritten Card x 1 - All of the gift items are painstakingly arranged in our premium gift box. A refined satin ribbon will be daintily added as a finishing touch so your gift is ready to be gifted. A complimentary handwritten card will be enclosed with your gift. Size of box: 33cm x 27cm x 12cm
RM

269.00